Lawrence D. Larson, the 11th Aero Squadron, and Larson's photo album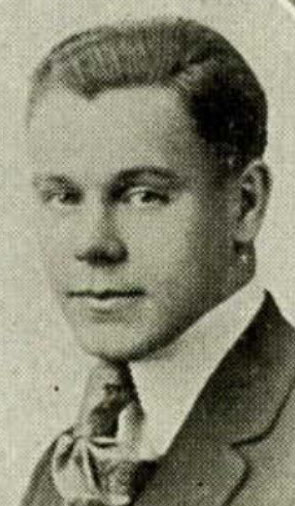 Lawrence D. Larson turned eighteen on April 6, 1917, the day the U.S. entered the war on; he was a senior at Rockford (Illinois) High School. He enlisted a month later. When the 11th Aero Squadron, which had been formed at Kelly Field at San Antonio, Texas, moved to Belleville, Illinois, in June 1917, Private Larson was assigned to it and spent several months stateside learning about the army and about Curtis JN-4s.1
In early December Larson was among the approximately 150 enlisted men of the 11th Aero who, along with six officers, left Illinois for New York. There they boarded the S.S. Orduna and on December 18, 1917, set sail for Europe.2 They docked at Glasgow on December 31, 1918, and then made the long journey by train from Glasgow to Winchester in the south of England on New Year's Day. At Winchester the men were divided into four flights. Two flights went to Stamford in Lincolnshire, and two to stations in Norfolk.  Photos of Larson taken in March 1918 indicate he was at Stamford.  From January through April the men, alongside their counterparts in the Royal Flying Corps (as of April 1, 1918, the Royal Air Force) learned about a variety of planes and motors.

On May 1, 1918, the Norfolk flights joined the other two at No. 1 Training Depot Station at Stamford. In June they moved to Waddington (also in Lincolnshire). The men of the 11th were now so well versed in the maintenance and care of planes and motors that it became their job to instruct American personnel who had arrived in England after them.
With large concentrations of American "boys" chafing to see action, it was perhaps inevitable that England was treated to an outsize display of patriotism on July 4, 1918. An official history describes the celebrations as extremely cordial and as putting the seal on Anglo-American friendship.3 Larson's experience indicates that the actual events of 1776 had not been forgotten. After a literally incendiary celebration at their airfield, the men of the 11th were taken to the base C.O. for a dressing down. When they were ordered to stand at attention, their first sergeant's response was: "I will not call my men to attention to be chastised by you for celebrating the anniversary of the date we kicked your tails in 1776."4
In August 1918 the 11th Aero Squadron set out for France. They arrived at Delouze (twenty miles east southeast of Toul) in the American Zone of Advance on August 26, 1918. Pilots and observers began arriving on September 1, 1918. On September 7, 1918, the squadron was ordered to relocate to nearby Amanty, where, along with the 20th and the 166th, they formed the 1st Day Bombardment Squadron.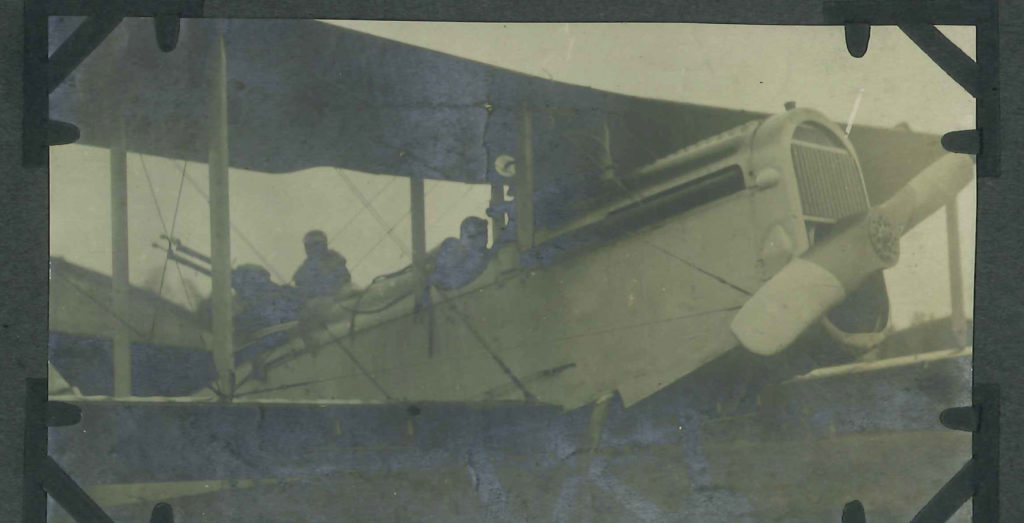 The enlisted men had less than a week to get the planes—American-built DH-4 bombers—and equipment in shape before the beginning of the St. Mihiel Offensive on September 12, 1918, in which the 1st Day Bombardment Squadron was to participate.
"The first day of the St. Mihiel drive we [the enlisted men] were ordered to have our planes ready for a raid at day-break. It meant working all night, but the next morning we had about twenty planes ready to take the air. The drive went on in real earnest and we had four days of hot fighting, which left us scarcely enough planes for one 'flight.' These few disastrous days were the worst the 11th ever experienced."5 By the end of the day on September 18, 1918, fourteen pilots and observers from the 11th had been killed or taken prisoner, including Thornton Dayton Hooper, their commanding officer.

Credit for the 11th Aero's recovery from this devastation goes in no small part to second Oxford detachment member Charles Louis Heater, who was assigned to them as their new C.O. on September 21, 1918. His skill at close formation flying, honed during his time with No. 55 Squadron R.A.F., and his willingness to stand up to the "swivel-chair commanders" were what the 11th needed.
Soon after Heater's arrival, the three squadrons of the 1st Day Bombardment Group moved from Amanty to Maulan as part of the extension of the American First Army's front from the St. Mihiel sector to the Argonne Forest.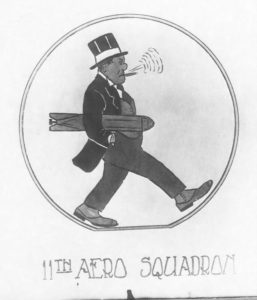 The official insignia of the 11th Aero was chosen during the squadron's time at Maulan. A committee of enlisted men and officers decided "that 'Jiggs' with his long suffering, still smiling spirit was nearest typical of the spirit of the 11th. Hal Green and Lawrence Larson were the ones suggesting 'Jiggs' and were the official artists in decorating the noses of our DH4's."6
On September 26, 1918, the Meuse–Argonne Offensive commenced. In part at Heater's instigation, flights by the 1st Day Bombardment Squadrons were made in large, tight formations, which were more effective and resulted in fewer casualties than during St. Mihiel. Nonetheless, "During the most active period of our operations the casualties and sickness among officers began to hamper us. We always endeavored to get every machine which was fit to fly, off the ground on every raid. A shortage of observers began to make this impossible, and requests for replacements from the S.O.S. [Services of Supply] did not meet with much success."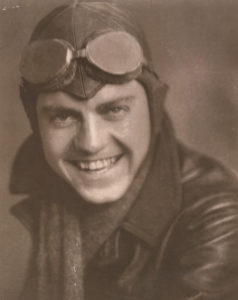 "With the wealth of willing material among the enlisted men, however, we were not long in getting away from this difficulty. The first call for volunteers from the men to act as aerial gunners was answered by practically the entire roster of the squadron."7  Larson was evidently among those who volunteered; his son-in-law recalls that "He flew in the De Havilland DH-4 day bombardment aircraft as a rear gunner."8
The operations officer of the 11th Aero wrote brief summaries of the missions flown by the squadron. Most of the summaries for the Meuse–Argonne period conclude with something like "All our machines returned safely at . . . o'clock."9 The major exception is his report for November 4, 1918, when Montmédy was the target.  Two planes failed to return from that mission.  Dana Edmund Coates with his observer Loren Renfrew Thrall and Cyrus John Gatton with his observer George E. Bures were all killed in action.  Larson kept a remarkable aerial photo taken of Montmédy that day.
The planes of the 11th Aero flew again the next day, but did not cross the lines; the war was over for them. And it was over officially, of course, on November 11, 1918: "A peculiar circumstance: the 11th Squadron rejoicing in the armistice taking effect at eleven o'clock on the eleventh of November, the eleventh month of the year."10 On hearing the news, there was a brief period of solemn silence. "But when, a few minutes later, things did break loose, [the men] went wild. All the loose ammunition was fired, bonfires were lighted, and colored signal lights and flares filled the air."11
Finding sufficient "tonnage" to get the American army to Europe in 1917–18 had been one of the challenges confronting Pershing. Now came the same problem in reverse. In the case of the 11th, priority was given to officers, and by the end of 1918, most of them had left Maulan and were awaiting embarkation orders. Heater and the few others who remained "were now almost wholly concerned with properly taking care of the enlisted personnel and the squadron as a flying outfit really ceased with the close of the year of 1918."12 The men occupied themselves with playing football against the 20th Aero; they celebrated Thanksgiving in great style; and they ferried planes back to the Colombey-les-Belles depot. When leaves came, the men travelled to Paris and other parts of France. In January 1919 "The mud of Maulan was exchanged for the mud of Colombey."13 In February they moved again, to Sablons, not far from Bordeaux, and thus significantly closer to the Atlantic and home. Larson was apparently at nearby Libourne on February 27, 1919, when Pershing reviewed troops.14
Finally, on April 21, 1919, the men of the 11th Aero Squadron, as well as those of the 20th, embarked at Bordeaux on the Henry R. Mallory bound for home; they arrived at Brooklyn on May 1, 1919.15
Larson returned to Rockford and found employment as a draftsman. He married and had two daughters. One of the daughters inherited the photo album he had carefully assembled to reflect his experiences in the Great War, and the album eventually came to her husband, Bill Edwards.
In 2016 Edwards contributed an article describing his father-in-law's experiences and the album to Friends and Neighbors Magazine, a publication edited by Suzy Hopkins for the community of Tuolumne County in northern California. The article included an iconic and oft-reproduced photo of the 11th Aero that caught my attention. I contacted Edwards, and with the help of Hopkins and of Fred Smith of Sierra Instant Printing in Sonora, California, Edwards generously provided me with scans of the album pages.
11th Sqdn Officers in their flying clothes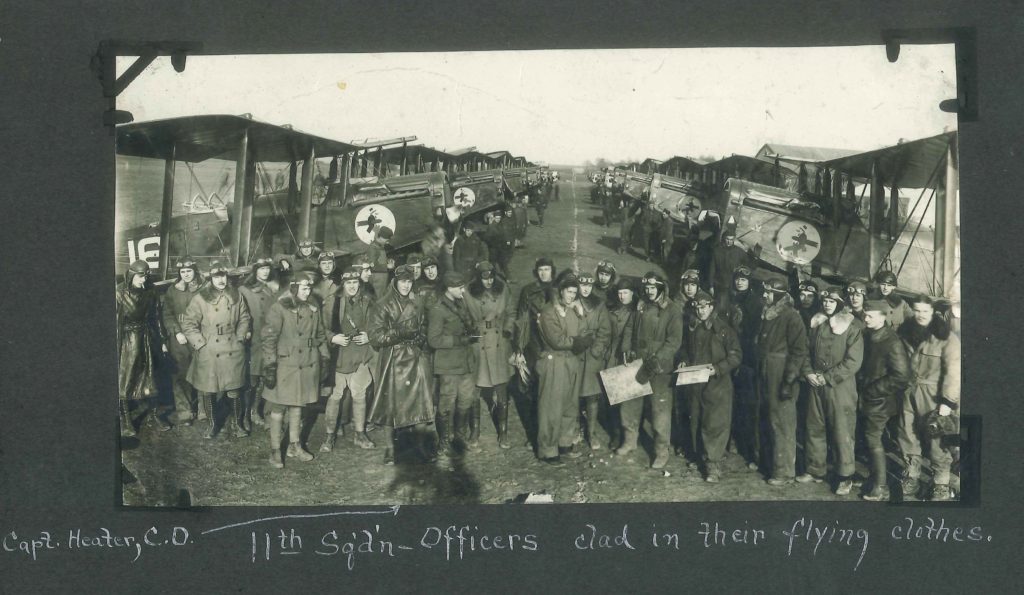 Officers of the 11th Aero Squadron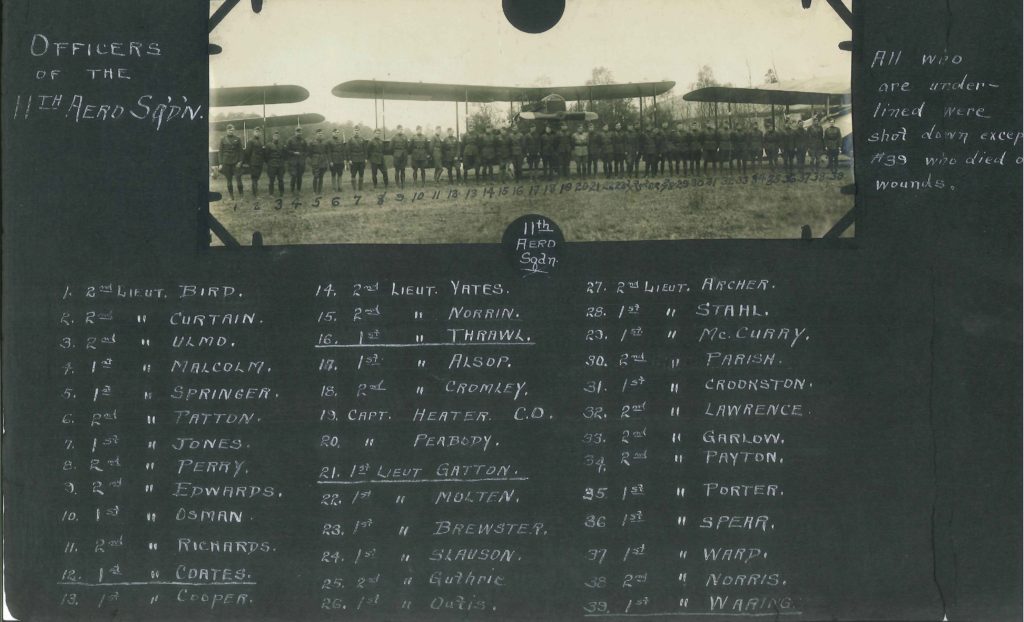 The following identifications are taken in part from History of the 11th Aero Squadron U.S.A., pp. 206–07. Bolded names indicate members of the second Oxford detachment.
1. Morton F. Bird (Stoughton, MA). 2. James G. Curtin (Milwaukee). 3. Henry W. Ulmo (Prescott, AZ). 4. Donald C. Malcolm (NYC). 5. Lew W. Springer (Cimarron, NM). 6. James L. Patten (Los Angeles). 7. Horace N. Jones, Jr. (Wheaton, IL). 8. George W. Perry (Camden, ME). 9. Philip J. Edwards (Chicago). 10. John E. Osmun (Madison, NJ). 11. John A. Richards (Minneapolis). 12. Dana Edmund Coates (Lodgepole, NE). 13. Alfred G. Cooper (New Kensington, PA).
14. James S. Yates (Oak Park, IL). 15. Ernest G. Noring (Lawrence, MA). 16. Loren Renfrew Thrall (Bellmont, IL). 17. Clifford W. Allsopp (Newark, NJ). 18. Warren N. Cromley (Jamestown, NY). 19. Charles Louis Heater (ND). 20. George Peabody (NYC). 21. Cyrus John Gatton (Melbourne, IA). 22. Joseph G. B. Molten (Philadelphia). 23. Sydney E. Brewster (NYC). 24. Frederick C. Slauson (NYC). 25. Ramon H. Guthrie (Paris). 26. Vincent Paul Oatis (Chicago).
27. Hasell D. Archer (Charlotte, NC). 28. Walter Andrew Stahl (Chicago). 29. Uel Thomas McCurry (Seattle). 30. William L. Parish (Chicago). 31. Ralf Andrews Crookston (Wallkill, NY). 32. Henry D. Lawrence (Denver). 33. John L. Garlough (Wichita, KS). 34. Robert Payton (Chicago). 35. Robert Brewster Porter (Bridgeport, CT). 36. George Dana Spear (Walpole, MA). 37. Lawrence Ward (Chalfont, CA). 38. Sigbert A. G. Norris (NYC). 39. William Wallace Waring (NY).
 11th Aero, 1st flight, enlisted men and Walter "Jake" Stahl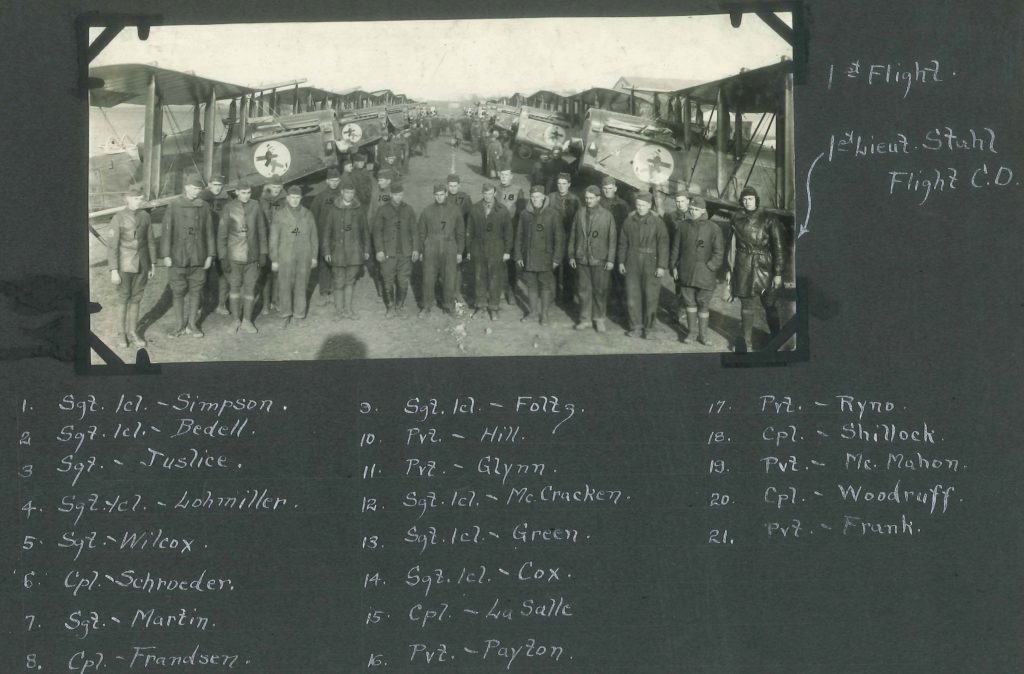 The following identifications are taken from History of the 11th Aero Squadron U.S.A., pp. 202–05.
1. Carl H. Simpson (Normal IL). 2. Ray A. Bedell (St. Louis). 3. Purchase W. Justice (Hutchinson, KS). 4. Sam J. Lohmiller (Watseka, IL). 5. Earl C. Wilcox (Spokane, WA). 6. John M. Schroeder (Larimore, ND). 7. John D. Martin (Warrensburg, IL). 8. Frank M. Frandsen (Reno, NV).
9. Everett W. Foltz (Manhattan, KS).  10. Willard A. Hill (San Francisco). 11. Patrick J. Glynn (NYC). 12. Russell S. McCracken (Denver). 13. Hal L. Green (Ligonier, IN). 14. Clyde A. Cox (Schuyler, NE). 15. Walter C. LaSalle (Chanute, KS). 16. Marion W. Payton (Stockton, CA).
17. Charles L. Ryno (Plymouth, CA). 18. Harold E. Shillock (Seattle). 19. John P. McMahon (NYC). 20. Glennes C. Woodruff (Lakeview, OH). 21. Joaquin Frank (Ryde, CA).
 11th Aero, 2nd flight, enlisted men and Vincent Paul Oatis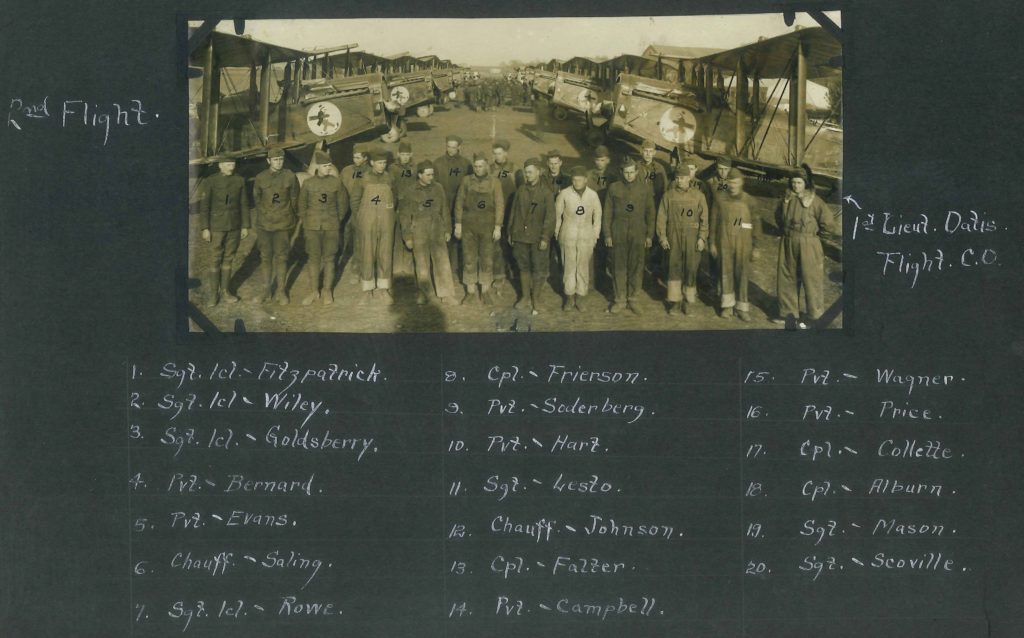 The following identifications are taken from History of the 11th Aero Squadron U.S.A., pp. 202–05.
1. James Fitzpatrick (Sweffels, CO). 2. Keith C. Wiley (Alden, IA). 3. Arthur B. Goldsberry (Chicago). 4. Stephen M. Bernard (Elk River, MN). 5. William H. Evans (Custer Park, IL). 6. Perry Saling (Pittsburgh). 7. James J. Rowe (Philadephia).
8. John W. Frierson (Shelbyville TN). 9. Adolph G. Soderberg (Steinway, L.I., N.Y.). 10. Rufus D. Hart (Manitoba). 11. Carl P. Lesto (Alden, MN). 12. ? Eugene F. Johnson (Browns Valley, CA); Charles E. Johnson (Ely, NV); or George T. Johnson (Fresno, CA). 13. Charles W. Falter (Philadelphia). 14. Carroll V. Campbell (Doswell, VA).
15. Henry W. Wagner (Brooklyn). 16. Walter I. Price (Alameda, CA). 17. Francis J. Collette (Los Angeles). 18. Althur A. Alburn (Chicago). 19. Edgar G. Mason (Johnson City, TN). 20. Elmer E. Scoville (Forman, ND).
11th Aero, 3rd flight, enlisted men and Donald C. Malcolm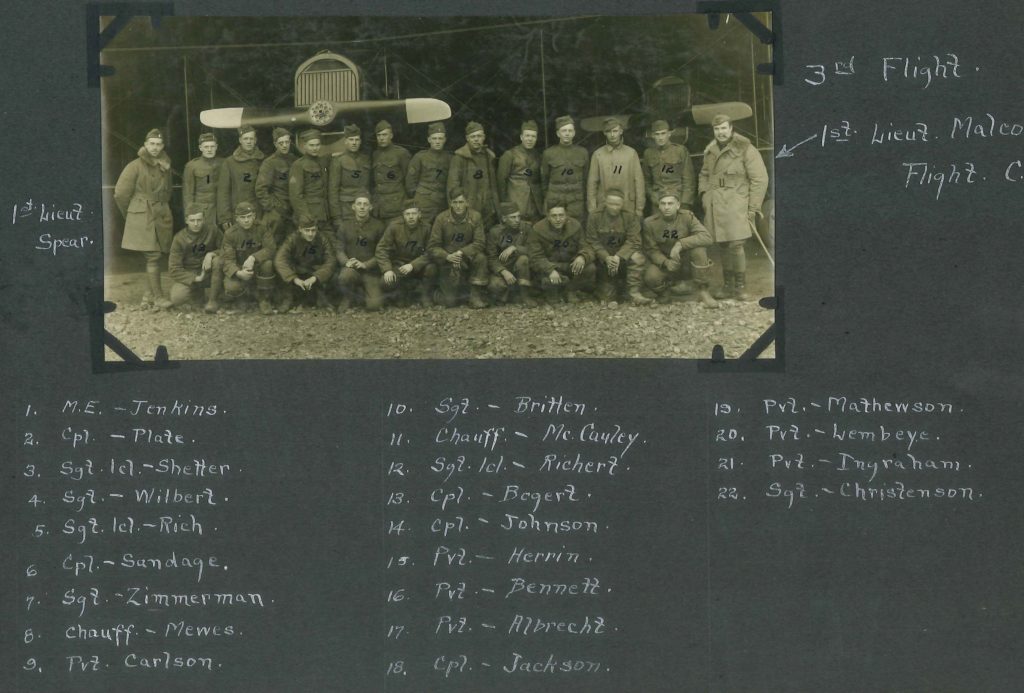 The following identifications are taken from History of the 11th Aero Squadron U.S.A., pp. 202–05.
1. Clement M. Jenkins (Watseka, IL). 2. Frank E. Plate (San Francisco). 3. Eugene L. Shetter (Butler, PA). 4. Otto J. Wilbert (Grand Rapids, MI). 5. Samuel C. Rich (Provincetown, MA). 6. N. R. Sandage (Powder River, WY). 7. Charles Zimmerman (Cameron, MO). 8. Harry C. Mewes (Oak P. O., CA). 9. David P. Carlson (Portland, OR).
10. Harry W. Britten (Zearing, IA). 11. Irvin McCauley (Golden Pond, KY). 12. Lawrence L. Richert (Spokane, WA). 13. E. C. Borgert (Browerville, MN). 14. ? Eugene F. Johnson (Browns Valley, CA); Charles E. Johnson (Ely, NV); or George T. Johnson (Fresno, CA). 15. Albert J. Herrin (Belleville, IL). 16. B. J. Bennett (Mankato, MN). 17. Lawrence L. Albrecht (Minneapolis). 18. Charles S. Jackson (San Francisco).
19. Lewis F. Mathewson (Lewiston, ID). 20. Jean M. Lembeye (San Francisco). 21. Charles J. Ingraham (Ashland, NE). 22. Harry Christensen (Alden, MN).
mrsmcq March 2, 2018; October 2020:  Bill Edwards has donated Larson's photo album to the National WW1 Museum and Memorial in Kansas City, Missouri.  
Notes