(Louisville, Kentucky, January 11, 1894 – Chicago, September 17, 1977).1
Callahan's family was from Kentucky; Mr. and Mrs. Callahan and their three sons moved to Illinois when Laurence was quite young, but kept up their Louisville ties.2  Callahan's father, Americus Franklin Callahan, invented and patented the window envelope around 1902; Callahan's mother was a talented amateur singer.3  The family became socially prominent in Chicago.4
Callahan attended Cornell, graduating in 1916.5  He returned to Chicago, where he became a stock and bond salesman.6  He attended ground school at the University of Illinois and graduated in the same class as John McGavock Grider (August 25, 1917).7
Callahan, along with Grider, was among those in their ground school class who chose or were chosen to continue their training in Italy.  The 150 men of the "Italian" or "second Oxford detachment" set sail from New York on September 18, 1917, on the Carmania.  The entry for September 20, 1917, in War Birds reads in part:  "I have a stateroom with Lawrence [sic] Callahan from Chicago, who roomed with me at Ground School, where we suffered together under Major Kraft and had a lot of fun from time to time in spite of him.  We almost got separated at New York as he was going to France with another detachment over at Governor's Island.  I got Elliott Springs, our top sergeant, to get the Major to have him transferred to us. . . ."  There are numerous further references to Callahan or "Cal" in War Birds.
Callahan later recalled:  "I started off in an expedition of about one hundred fifty American pilots (to be) who presumably were going to Italy to sort of fill up some of their needs for manpower. . . .  We had Italian instructors to teach us Italian.  The staff work of the United States Army was quite consistent and so we did not land in Italy; we landed in Liverpool, England, where we found we then had to be with the British air force rather than the Italians."  Once the initial disappointment passed, Callahan, like most of the men, was happy with the arrangement:  "Well, the British, with their usual lack of ability to produce publicity, had not advertised the fact that they happened to have the best air force there was at that time. . . ."8
For their first night in Oxford, the men were assigned haphazardly to various colleges. Paul Stuart Winslow of the first Oxford detachment—fifty American cadets who had arrived in Oxford in early September—"went out . . . to the different colleges, and looked up men we knew. We found Larry Callahan and Jake Stanley at Exeter. . . ."8a The next day the detachment was split into two groups, with sixty assigned to The Queen's College, and ninety to Christ Church.  About a week later, Grider, assigned to Christ Church, wrote to his friend Emma Cox: "The top sergeant, Springs, and Jim Stokes from Nashville, and Callahan from Chicago are all in the same room with me."9  Callahan recalled, "we never had more fun in our life than we did at Oxford.  We didn't have any work to do because we already knew everything."10
After a month at Oxford, Callahan, along with all but twenty of the detachment members, left to go to machine gun school at Harrowby Camp, near Grantham in Lincolnshire. On November 19, 1917, he was assigned to No. 12 Training Squadron at Thetford where, according to the War Birds entry for November 20, 1917, he, Grider, and Clarence Horne Fry roomed together.  There they began their flight training on Maurice Farman Shorthorns.  "It seemed that they were . . . trying to get rid of these Maurice Farman Shorthorns because they were going to get Avros, . . . so they conceived of a very fine idea.  They said why not have our Americans . . . crack them all up." Callahan goes on to recount his own particular smash up.11
At Thetford, in the lead up to Thanksgiving, a rugby match was planned, according to Eugene Hoy Barksdale, who was also at Thetford. But "it was called off & a cross country race put in instead . . . a mixture of an obstacle & cross country race for we had to go over fences through hedges & swim a river before returning. . . .  Callahan of Cornell won."12
From Thetford, Callahan went to No. 56 Training Squadron at London Colney on December 16, 1917.  His R.A.F. service record indicates that on February 21, 1918, he "Grad. C.F.S.," i.e., graduated from this stage of R.F.C. training.13   Around this time he was recommended for his commission; Pershing's cable forwarding the recommendation is dated March 4, 1918 (there was typically a delay between the initial recommendation and the cable), and the confirming cable from Washington is dated March 25, 1918.14  In early March Callahan went from London Colney to the School of Aerial Gunnery at Turnberry, Scotland, and from there to the School of Aerial Fighting at Ayr.15
Paul Stuart Winslow was also at Ayr at this time.  He recorded a busy day in his diary on April 3, 1918, including, while flying a Camel, an aerial encounter with Callahan:
As I was flying around, watching other scraps, I suddenly heard a -sungg- and right next to me was an S.E.5 with Larry Callahan in it.  An episode of just a year ago flashed into my mind.  The scene was State Street, Chicago, and Larry and I were walking together, trying to read the signs on office buildings to find the Signal Corps Enlisting Office and wondering how we were going to get into the Flying Corps with our poor eyes.  Then here, a year later, in a little town in Scotland, we meet at 5,000 feet in the air, 4,000 miles from home in two of England's fastest scout machines, flying side by side. . . .  When we landed he told me that the same incident had flashed through his mind and he said he could practically see me thinking the same thing.15a
Not long thereafter, William Avery "Billy" Bishop took command of No. 85 Squadron R.A.F., stationed at Hounslow, and on the recommendation of and in connivance with Spencer Bertram "Nigger" Horn—who had been an instructor at 56 T.S. before becoming a flight commander with 85—ensured that Callahan, along with Grider and Springs, was assigned to his squadron.16
In letters home, probably from the period when he was stationed at 85 at Hounslow, Callahan described a forced landing that apparently took place in the Deer Park of Woburn Abbey, the estate of the Duke of Bedford.  He also gave his version of the encounter he and his fellow pilots had with Princess Marie Louise at Hounslow that is described in the entry for May 17, 1918, of War Birds.17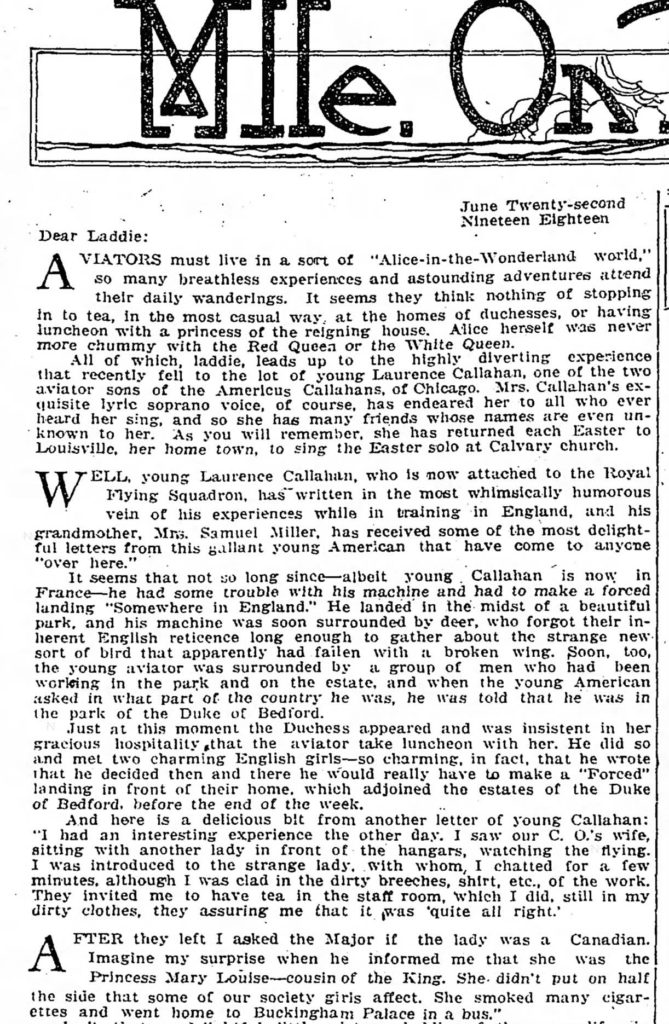 On May 22, 1918, the pilots of No. 85 Squadron set off in S.E.5a's for Lympne.  From there they crossed the Channel to Marquise, and then flew to Petit Synthe near Dunkirk.18  Callahan's arrival was delayed; the entry in War Birds for May 25, 1918, recounts that "Cal didn't get far.  He disappeared from the formation about fifteen minutes after we took off, and didn't get here until to-day.  He had an air-bubble in his water-line and he had to land in a field south of London to let his motor cool off and get some more water.  He got down all right and got out of the field again and decided he'd stop at Croydon and get his radiator drained.  He made a bad landing at Croydon and crashed. So he went back to London for another night and got a new machine from Brooklands the next day."19  On May 26, 1918, Springs wrote his stepmother from Petite Synthe where the squadron was stationed:  "I'm still pinching myself to make sure I'm awake but there seems to be no doubt about it. Larry Callahan arrived yesterday and all is well."20
Pilots of No. 85 spent until the end of May familiarizing themselves with the area and practicing gunnery.  When the squadron become operational on June 1, 1918, they flew patrols down to Ypres and escorted bombers into Belgium.  Then, on June 10, 1918, they were ordered south to St. Omer; their patrols now extended from Ypres south to Nieppe.21
Callahan apparently was involved in shooting down two planes in June, although he received credit only for one.  Springs's flight log for June 15, 1918, reads in part "Larry gets a two-seater"; Springs's combat report for June 17, 1918, describes the downing of another two-seater, "Kill shared with Grider and Callahan."22  In July Callahan is credited with shooting down two enemy planes.  His opponent on July 13, 1918, was flying a Fokker DVII; in a letter home, Callahan remarked:  "You will be glad to hear that yesterday I shot down one of the Hun's latest types of scout machines, making two that I have had confirmed. I think I got another one several weeks ago, but I could not get it confirmed."23  His second victory in July and his last with 85 occurred on July 24, 1918, again against a DVII.24  In mid-August, 85 Squadron moved again, this time much farther south, to Bertangles, just north of Amiens.
About ten days later, on August 24, 1918, Callahan was assigned to the U.S. 148th Aero Squadron, stationed at Remaisnil, about fifteen miles north of Bertangles; many men of the first and second Oxford detachments were already there.25  Soon after his assignment, he had leave in London.  On rejoining the squadron on September 9, 1918, he was, at Springs's urging, assigned to Springs's B flight and instructed by him in flying Camels—Springs had been with the 148th since early July.26  As the only member of the flight besides Springs who had had combat experience, Callahan was named deputy leader.27
In addition to their offensive patrols out of Resmaisnil in support of the advancing British Third Army, the 148th took part in bombing and ground strafing, despite the fact that Camels were ill suited to bombing.28  As the German line fell back east, the flying distance from Resmaisnil increased, and on September 20, 1918, the 148th Aero was ordered to move east to an airdrome at Baizieux, near Albert. Here they shared patrols with No. 60 Squadron R.A.F., the S.E.5a's of 60 providing the "'upper guard,' while 148 flew low, bombing troops and attacking low-flying Fokkers."29  Not long after the move, during an early morning patrol and encounter with enemy planes, Callahan's plane was damaged:  "A spar broke and his right wing buckled. . . .  He went down in a spin but got out and side slipped back to our lines and landed in no man's land upside down."  Fortunately, Callahan was not injured.30
Towards the end of September, Springs left the 148th in order to prepare to lead a new squadron, and Callahan took over from him as flight commander of the 148th's B flight.31  Shortly thereafter, on October 3, 1918, Callahan "[g]ot on tail of Fokker S.E. of Esnes. Got in seventy-five (75) rounds at 100 yards from directly off tail. Fokker went into steep dive and torque spin.  I watched him for 3,000 feet, when he was still completely out of control.  Could not watch him further due to general mix-up." Clayton Bissell was able to confirm that the Fokker biplane with the white tail crashed, and Callahan was credited with his fourth victory.32  Francis L. "Spike" Irvin, the squadron's administrative sergeant major, noted in his diary that day:  "Lts. Bissell, Callahan and Ralston each get a Hun. Greatest fight of the War taking place at Cambrai. Allies in its suburbs."33
By October 14, 1918, with Cambrai taken and the Allies advancing eastwards, the 148th once again, along with No. 60 Squadron R.A.F., moved, now to the air field at Beugnâtre, about two miles northeast of Bapaume—Bapaume now "a cluster of ruins in the middle of a desert," in squadron historian William P. Taylor's words.34  The 148th, when weather permitted, carried out bombing and ground strafing missions during the latter half of October, often in tandem with No. 60 Squadron.35  The mission on October 28, 1918, however, differed dramatically from those of preceding days.  The pilots of the 148th decided to set a trap for the enemy, and the trap was successful probably beyond what they ever imagined.  The squadron's A flight, commanded by Field Eugene Kindley, served as bait, flying, once the line was reached, at the comparatively low altitude of 10,000 feet, and giving the appearance of a flight looking for low-flying German two-seater reconnaissance planes.  Meanwhile Thomas L. Moore's C flight flew several thousand feet higher, and Callahan's B flight higher still, apparently in no way connected to Kindley's flight and possibly, in any case, hidden by clouds.  The three flights had spent about an hour patrolling back and forth along the line and moving gradually eastwards when a flight of enemy Fokkers evidently decided that Kindley's flight would be easy prey and attacked.  Immediately planes from Moore's and Callahan's flights dove on the Fokkers, and very quickly "the fight was over, and there on the ground, within a radius of one thousand yards, were seven crashed Hun planes."36  Callahan accounted for one of them; he himself watched his Fokker going down to 500 feet, after which he was "unable to watch him further due to another of our machines in trouble."37
The men of the 148th had for some time known that they were to be transferred to the American Front, and, in fact, the next day, October 29, 1918, they were ordered to cease war flying and to prepare to move south on November 1, 1918.38  After a several days uncomfortable journey by train from Bapaume through Amiens and Paris they arrived at Toul, where they were attached to the American Second Army—and where they celebrated the armistice and then settled in for the long wait for transport home.  During their time at Toul the 148th, like other American squadrons, had photos taken.
On December 9, 1918, Callahan was awarded the D.F.C.39  The citation as transcribed in Munsell's "Air Service History" (169 a & b) reads:  "On October 28th, 1918 this Officer whilst leading his flight, attacked a formation of 7 Fokkers, and after firing a short burst at one E.A. sent it down completely out of control N.W. of Jenlain and then drove another E.A. off the tail of one of his Flight.  His flight in this fight accounted for 6 E.A. crashed and one out of control without losing a machine—a result largely due to his skilful [sic] leading. On another occasion he engaged a formation of E.A. over Esnes.  This officer has accounted for 4 E.A. crashed, and one driven down out of control; he has proved himself an exceptionally fine patrol leader, and has at all times displayed gallantry, initiative and devotion to duty of the highest order."  Callahan was also awarded the American Distinguished Service Cross and Oak Leaf.40
After the war, Callahan returned to Chicago and banking.  He returned to military service in World War II.  Olive M. Senn gives a brief account of his activities in her obituary of Callahan:  ". . . Colonel Callahan was stationed in England and served as Chief Intelligence Officer of the 8th Fighter Command.  He was one of the few select officers cleared for the super-secret ULTRA information.  The air tactics and strategy he devised had a part in a true air victory being achieved in World War II.  He also spent some time, probably as Intelligence Officer, in Oran, North Africa."41
mrsmcq May 10, 2017