(Brooklyn, September 10, 1896 – Brooklyn, September 29, 1970).1
Keenan's maternal and paternal grandparents were born in Ireland. He was apparently an only child. His father, Thomas J. Keenan, worked as an inspector of constructions.2 Keenan attended Erasmus Hall High School in Brooklyn before entering Princeton with the class of 1919.3
Along with his Princeton classmates Bonham Hagood Bostick, Harold Kidder Bulkley, John Howard Raftery, Frank William Sidler, and George Augustus Vaughn, Keenan was a student at the Princeton Aviation School, which had been established in the spring of 1917 to train Princeton students. They all then became members of the first class at the Princeton School of Military Aeronautics ("ground school") which superseded the Aviation School in June 1917; they graduated August 25, 1917.4
Nearly half of the men in this ground school class, including Keenan, chose or were chosen to train in Italy. They were thus among the 150 men of the "Italian" or "second Oxford detachment" who sailed to England on the Carmania. They set out from New York for Halifax on September 18, 1917, and sailed from Halifax as part of a convoy for England on September 21, 1917, docking at Liverpool on October 2, 1917. There the men were ordered to proceed not to Italy as they expected, but to remain in England and to repeat ground school at the Royal Flying Corps's No. 2 School of Military Aeronautics at Oxford University, much to their initial disgruntlement. Various explanations have been offered for the change.5 Whatever the reason, the detachment members fairly quickly made their peace with training in England. Keenan explored the university with fellow Princetonians Walter Burnside Knox, William Hamlin Neely, and Frank Aloysius Dixon, and with the latter two, after classes in wireless and aerial observation, watched rugger and played (American) football.6 When, at the end of the month, Elliott White Springs chose men, mainly those with some flying experience, to go to Stamford to begin R.F.C. flight training, Keenan may have anticipated being selected. However, neither he nor Knox (who had also been at Princeton Aviation School) was among the twenty.7 Instead they were part of a large group who set out on November 3, 1917, for Harrowby Camp, a machine gun school near Grantham in Lincolnshire.
Fifty of the men at Grantham departed on November 19, 1917, for flying schools, but Keenan was among the men who remained at Harrowby Camp until early December and completed two two-week machine gun courses, the first on the Vickers, the second on the Lewis machine gun. On December 3, 1917, the remaining Grantham men were posted to flying training squadrons.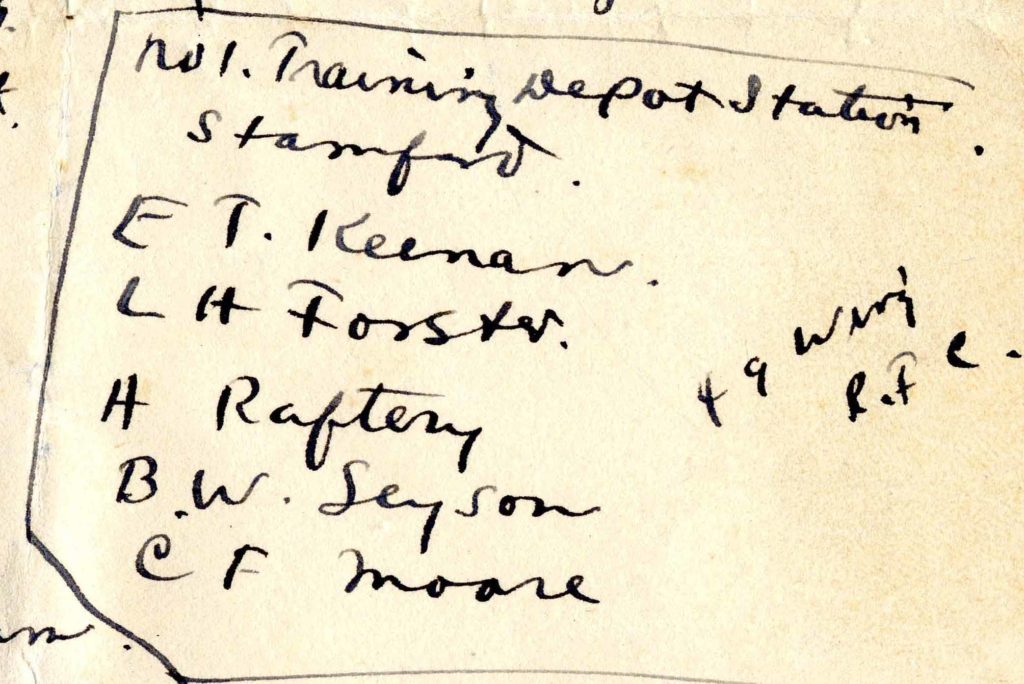 According to a list drawn up by Fremont Cutler Foss, Keenan was one of five men who now joined Springs's group at the No. 1 Training Depot Station at Stamford (the others were Linn Humphrey Forster,  Burr Watkins Leyson, Charles Francis Moore, and John Howard Raftery).8  The training plane used at Stamford, the Curtiss JN-4, would have been familiar, as it was the plane that had been used at the Princeton Aviation School.
I find no further documentation of Keenan's training in Great Britain.9 He was one of many cadets whose appointments as first lieutenants Pershing recommended in a cable dated April 8, 1918; the appointments were confirmed in a cable dated May 13, 1918.10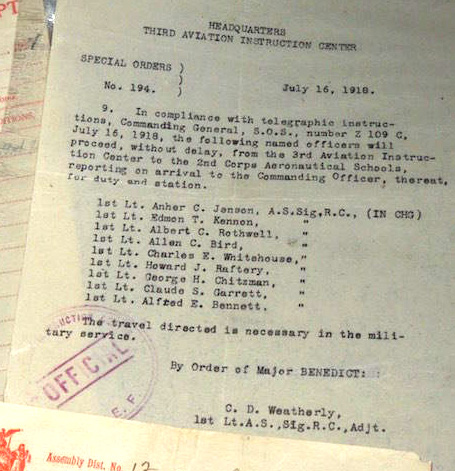 Keenan was assigned for a time, along with many other pilots from the second Oxford detachment, to the 3rd Aviation Instruction Center at Issoudun, where he presumably had instruction in flying the American-built DH-4 and in the skills required of an observation pilot.11   In mid-July 1918 Keenan was among a group of nine pilots, including Allen Tracy Bird and Anker Christian Jensen of the second Oxford detachment, who were ordered to the 2nd Corps Aeronautical School, an aerial observation school at Châtillon-sur-Seine.12  A "Roster of Staff Pilots" indicates that Keenan arrived at Châtillon with Bird and Jensen on July 21, 1918, and departed, shortly after the other two, on August 26, 1918.13 Bird and Jensen went almost directly to operational squadrons.
Keenan's New York military record indicates he was active in the St. Mihiel offensive (September 12–16, 1918), but I find no squadron assignment for him before September 30, 1918, when he joined the U.S. 135th Aero.14 The nature of his activities during September thus remains obscure.
The 135th was an observation squadron that flew DH-4s. It was part of the IV Corps Observation Group, which was in the process of relocating from Ourches to Toul when Keenan was assigned. During October the 135thcontinued performing reconnaissance and photographic missions, as well as dropping propaganda. Records for the squadron are largely anecdotal, and I find no mission reports that might document Keenan's participation. He left the 135th on November 3, 1918, and was for a time at the 1st Air Depot at Colombey-les-Belles.15
Keenan sailed for the U.S. in September 1919.16 He returned to Brooklyn and worked as an engineer for the New York Tunnel Authority.17
mrsmcq May 25, 2018
Notes
(For complete bibliographic entries, please consult the list of works and web pages cited.)