(Kempton, Illinois, October 27, 1888 – Kankakee, Illinois, June 8, 1974).1
Jensen's parents were born in Denmark; they emigrated to the U.S., apparently separately, in the early 1870s and married in 1878. Christen Jensen, Anker's father, farmed land in Ford County, Illinois, where Anker was born.2 Anker Jensen initially attended Illinois Wesleyan University in Bloomington, Illinois. Like many second Oxford detachment men, he excelled in athletics and was a pitcher for Wesleyan's baseball team.3 He transferred to the University of Illinois to be able to play under baseball coach George Huff.4 After graduating in 1910, he began playing professionally, but his pitching arm gave out.5 He went on to study law at Northwestern University, receiving his degree in 1914 and in the same year setting up a law practice in Kankakee, Illinois.6
In 1917 Jensen attended ground school at his alma mater, the University of Illinois, graduating September 1, 1917.7 Along with most of the men from his ground school class of about thirty, Jensen chose or was chosen to go to Italy for flying training and thus sailed with the 150 men of the "Italian" or "second Oxford detachment" to England on the Carmania. They departed New York on September 18, 1917, and made a brief stopover at Halifax where they joined a convoy for the Atlantic crossing. On October 20, 1917, Jensen wrote to a friend in Kankakee:
We arrived at Liverpool sometime during the morning of Oct. 3. Upon disembarking orders were given us, or rather to our major, to leave directly for Oxford, there to take a six week course in the Royal Flying schools, know as the R.F.C. Our major at first refused to accept the order as we were scheduled for Italy and that was where he had planned to take us. You can imagine the disappointment that came to the whole bunch of us when we learned that we had to take the same work over again that we had already had in the American ground school. It meant six weeks of listening to the same lectures we had already committed to memory in our own school.8
The six weeks at Oxford turned out to be four. On November 3, 1917, most of the men, including Jensen, left for Grantham in Lincolnshire to attend gunnery school at Harrowby Camp. Fifty of these men departed on November 19, 1917, for flying schools, but Jensen was among the men who remained at Grantham through the end of November. On November 29, 1917, they celebrated Thanksgiving in great style, with many of the men who were already at flying schools coming in to join them. Festivities included a football game between the "Unfits" and the "Hardly Ables."9 Jensen played for the winning Unfits and appears in photos of the team taken that day.10
A few days later, on December 3, 1917, the remaining men at Grantham were posted to flying squadrons, and Jensen was one of eight assigned to No. 33 Home Defense Squadron, headquartered at Gainsborough, about thirty-five miles north of Grantham. According to William Thomas Clements, they went from Gainsborough to Scampton, where a flight from 33 was stationed.11 Clements's diary entries indicate that the personnel at Scampton were at a loss as to what to do with the trainees, but nevertheless gave them some instruction.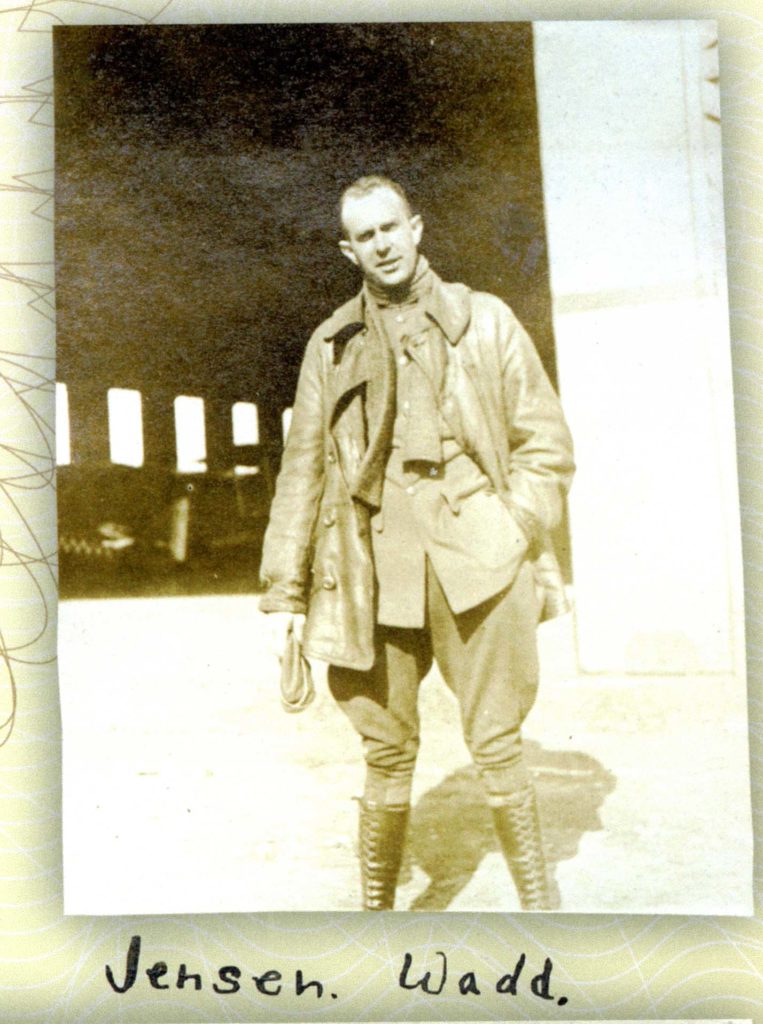 Towards the end of January word came that the eight men would be transferred, and on January 27, 1918, four of the men, including Clements and Arthur Paul Supplee, went to Waddington, while four went "down near London some place."12 Jensen may have trained near London, but he also ended up for a time at Waddington, judging by a photo of him there saved by Joseph Raymond Payden.13 This would have been consistent with Jensen's later squadron assignment, as pilots were taught to fly DH.4s at Waddington.
I have found no further information on Jensen's training in Great Britain. He was one of many cadets whose appointments as first lieutenants with "non-flying" status Pershing recommended in a cable dated April 8, 1918. For some reason it took Washington over a month to send the confirming cable, which is dated May 13, 1918; Jensen was placed on active duty on May 30, 1918.14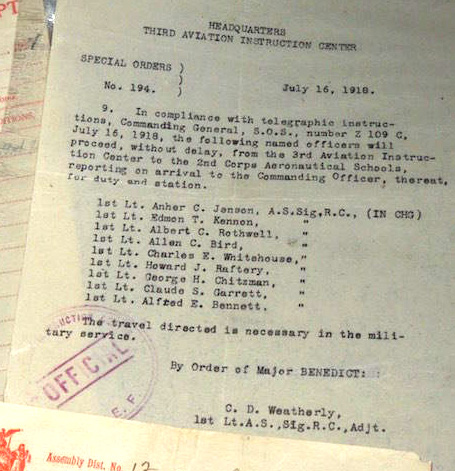 Jensen was one of a large group of pilots ordered in July 1918 to travel from London to Issoudun, where the American 3rd Aviation Instruction Center was located.15  There he presumably had instruction in flying the American-built DH-4.16  In mid-July 1918 he was in charge of a group of nine pilots, including Allen Tracy Bird, Edmond Thomas Keenan, and John Howard Raftery of the second Oxford detachment, who were ordered to the 2nd Corps Aeronautical School, an aerial observation school at Chatillon-sur-Seine.17
On August 18, 1918, Jensen, along with fellow second Oxford detachment members Edward Addison Griffiths, Edward Russell Moore, and John Howard Raftery, was assigned to and joined the U.S. 8th Aero Squadron at Amanty, about seventeen miles southwest of Toul; they were soon followed by Hilary Baker Rex and Newton Philo Bevin.18 The 8th was an observation squadron flying DH-4s; it had been at Amanty since the last day of July, attached to the I Corps Air Service of the American First (and at that time only) Army. The squadron was now doing intensive training, including making flights over the lines. On August 31, 1918, as part of the planning for the St. Mihiel Offensive, they were transferred to IV Corps and moved to Ourches-sur-Meuse, about eight miles due west of Toul, where the IV Corps Air Service was based.19  A transcription of part of Jensen's log book shows him to have made fourteen "test" flights during the period August 21–September 8, 1918, usually flying with observer and fellow Illinois farmer's son Arthur Paul Wilkinson, but also with James Russel Congden, the squadron radio officer; John H[arold] Mulherin, observer; and the otherwise unidentified "Fineley" and "Murphy."20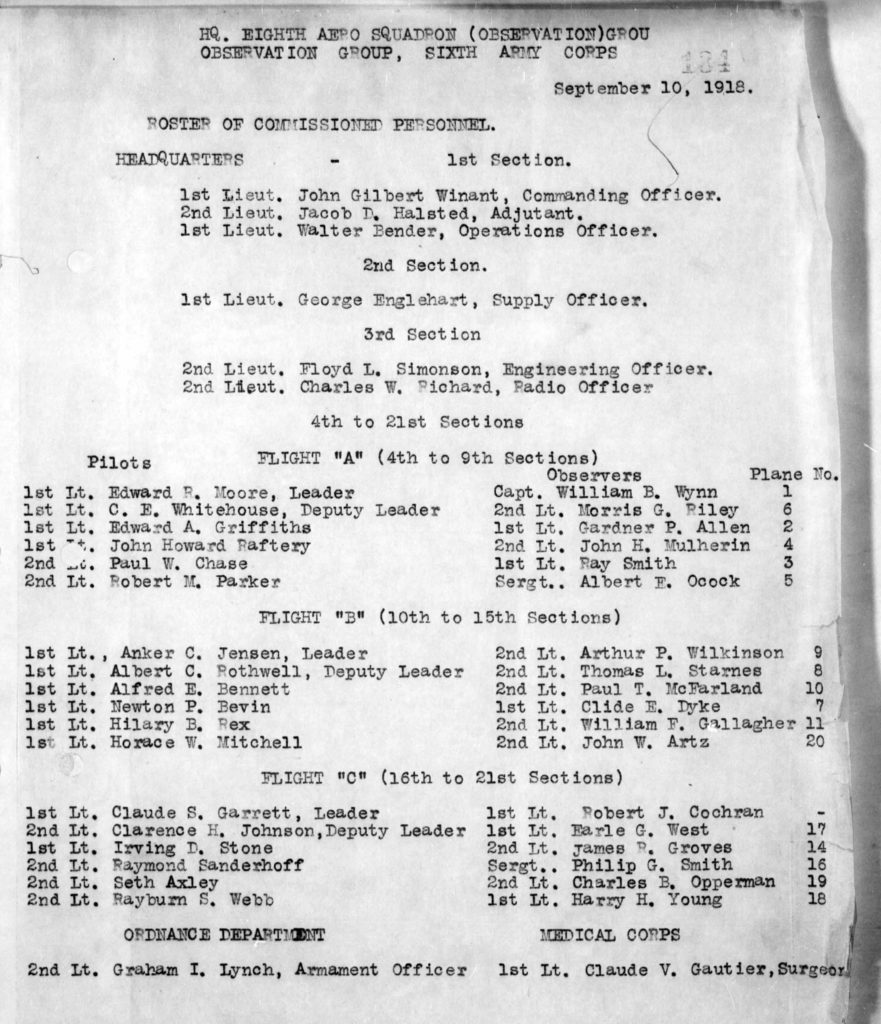 An 8th Aero roster dated September 10, 1918, shows that Jensen, flying DH-4 no. 9, was assigned as leader of B flight, with Albert C. Rothwell (of the first Oxford detachment) as his deputy leader and Wilkinson as his observer.21
The offensive to reduce the St. Mihiel salient began in the early hours of September 12, 1918. The 8th Aero was assigned to assist the IV Corps's 1st Division, which was at the westernmost part of the American line on the south front of the salient. The squadron C.O., John Gilbert Winant, reported that on the 12th and 13th planes of the 8th Aero "were in the air for thirty-six hours and thirty minutes . . . and twenty-four separate missions were accomplished."22 The transcription of Jensen's log book shows him, with observer Wilkinson, to have flown three missions on September 12, 1918—this in terrible weather with a low ceiling and strong winds. On the first mission, which lasted eighty-five minutes, he noted "7 bullets in A/C [aircraft?]." On September 14, 1918, Jensen and Wilkinson flew one long (105 minute) reconnaissance flight. On the fifteenth, with Congdon as his passenger, Jensen flew a test flight, and then returned to flying reconnaissance missions, one each day, on September 16–18. The effort to reduce the St. Mihiel salient was by now over, but on the evidence of Jensen's log book, the planes of the 8th Aero continued to fly reconnaissance and "Reg." (presumably "reglage," or artillery adjustment) missions through September 26, 1918.
The IV Corps Air Service did not participate in the Meuse-Argonne Offensive, but remained initially at Ourches.23 On September 29, 1918, IV Corps squadrons, including the 8th Aero, moved a few miles east to Gengoult aerodrome near Toul. From there the 8th Aero flew extensive photographic missions as well as voluntary bombing missions.24 "One of the duties assigned at this time was to photograph the entire Corps front to a depth of ten kilometers, an area of about six hundred square kilometers."25 Jensen's log book shows him flying fourteen missions during the time the 8th was at Toul, some well over an hour long, but there is no indication of the nature of the flights.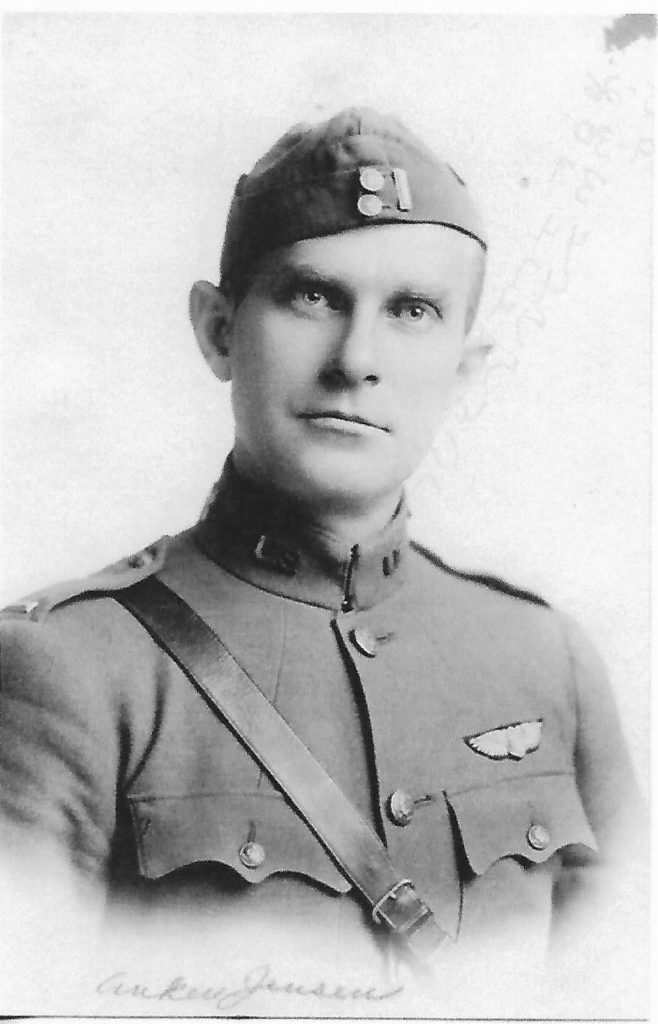 On October 23, 1918, the 8th Aero moved once again, this time about ten miles northeast to Saizerais where, now attached to VI Corps, they again undertook photographic and voluntary bombing missions, and once again Jensen's log book shows numerous flights of a nature unspecified.26 The 8th Aero was now part of the Air Service of the recently formed Second Army, whose "task was to begin a general offensive leading to the capture of Metz and the gateway into Germany proper."27 The armistice supervened.
In his recorded recollections, Jensen notes that on one occasion "[my] propeller was shot off at 13,000 feet but I was able to glide the plane to base." The transcription of his log book does not provide enough information to match this occurrence to a date. He also recalls that he and his observer "were given credit for bringing down four enemy planes." I find no record of these incidents in the account of the 8th Aero in Gorrell, but documentation on the squadron is sparse, and the absence of reference to the credits in Gorrell and in standard claims lists is not incontrovertible proof they did not happen.
A flight roster for the 8th Aero from January 2, 1919, shows Jensen still in B flight, but he and Alfred Edward Bennett (of the first Oxford detachment) have exchanged places, with Bennett now flight leader.28
During January Jensen evidently received some leave. There are photos kept by his fellow second Oxford detachment member Joseph Raymond Payden of Jensen and his observer Wilkinson, as well as Payden and first Oxford detachment member Edward Milton Wilcox, in southern France, Italy, and Monaco—all still in uniform but off duty.29
In late February Jensen was able to board the Honolulu at Bordeaux and head home; he arrived at Hoboken on March 13, 1919.30 He returned to Kankakee and resumed his interrupted legal career.
mrsmcq April 25, 2018; updated October 29, 2021 to include Payden's photo