(Elizabeth, New Jersey, October 16, 1897 [?] – Eggertsville, New York, May 19, 1964).1
Benson's mother emigrated with her family from Staffordshire, England, to New Jersey around 1882.2 There she met and married his father, who was working in Elizabeth as an "erecting engineer."3 By 1910, the family had moved to Elmira, New York, where Benson's father worked for the American Bridge Company.4 Benson attended the Elmira Free Academy, where he excelled in drama and football.5 After graduating in 1916, he entered Ohio University in Athens, Ohio, with the class of 1920.6 In the spring of 1917, he was accepted as a candidate for R.O.T.C. at Fort Benjamin Harrison in Indiana and from there was selected for training at the School of Military Aeronautics at Ohio State University; he graduated from ground school at O.S.U. September 1, 1917.7

Along with most of his O.S.U. classmates, Benson chose or was chosen to train in Italy, and he joined the 150 men of the "Italian" or "second Oxford detachment" who sailed to England on the Carmania.8 They departed New York for Halifax on September 18, 1917, and departed Halifax as part of a convoy for the Atlantic crossing on September 21, 1917. When the Carmania docked at Liverpool on October 2, 1917, the detachment learned to their initial consternation that they were not to go to Italy, but to remain in England and repeat ground school at Oxford's School of Military Aeronautics.
On November 3, 1917, most of the detachment, including Benson, went to Grantham in Lincolnshire to attend gunnery school at Harrowby Camp.  There, as one of his "hut mates," John McGavock Grider, described it, "We rank as officers and don't have to salute any thing under Majors and on the other hand we are not officers and are not saluted by privates."8a   Eight men were assigned to a hut, and, initially, in addition to Grider, Benson shared with Thomas John Herbert and Clarence Horn Fry, who had been at O.S.U., as well as Laurence Kingsley Callahan, Finley Austin Morrison, Joseph Raymond Payden, and John Howard Raftery.8b   In mid-November, after places opened up for fifty men at training squadrons, only Benson, Payden, and Raftery remained and completed both two-week machine gun courses at Grantham, the first on the Vickers, the second on the Lewis machine gun.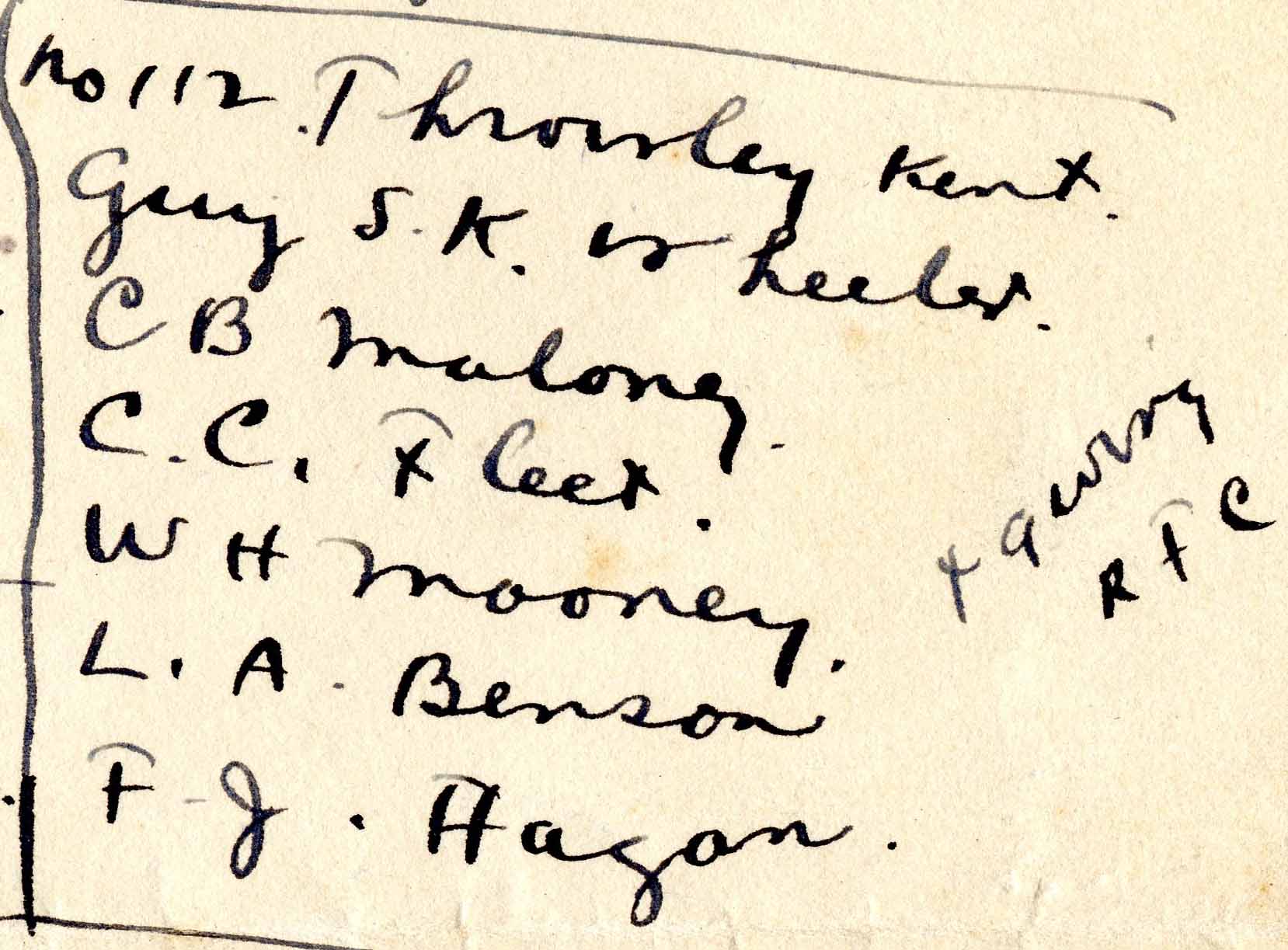 On December 3, 1917, the remaining men at Grantham were posted to flying training squadrons. According to a list drawn up by Fremont Cutler Foss, Benson was assigned to No. 112 Squadron, a home defense squadron at Throwley in Kent, along with Charles Carvel Fleet, Francis Joseph Hagan, Clarence Bernard Maloney, William Henley Mooney, and Guy Samuel King Wheeler.9
Benson's R.A.F. service record is almost completely blank, but some of his training and service is documented by miscellaneous papers he retained which, along with numerous photos, were deposited with the Smithsonian Institution.10 A mess bill for "Cadet L. Benson" indicates that by March 3, 1918, he was at No. 5 Training Depot Station near Stamford in Lincolnshire. May 10, 1918, finds him reporting to B flight of No. 9 Training Squadron at Sedgeford in Norfolk.  There is an entry in the diary of Harold Ernest Goettler, also at Sedgeford, for this date remarking that "[I] met an American tonight at supper by the name of Benson—he is a Beta [fraternity member] and was just posted to our Squadron."
Benson was recommended for his commission in early April, and the commission was confirmed in a cable dated May 13,1918—news of the consequent celebration spread, and Benson's squadron mate from Throwley, Fleet, commented on it.11 A sugar permit issued to Benson in early July indicates he was still at No. 9 T.S. at that time, but an entry in his otherwise largely blank Officer's Record Book indicates that he left for France later that month; by the end of the month he was serving as an instructor.12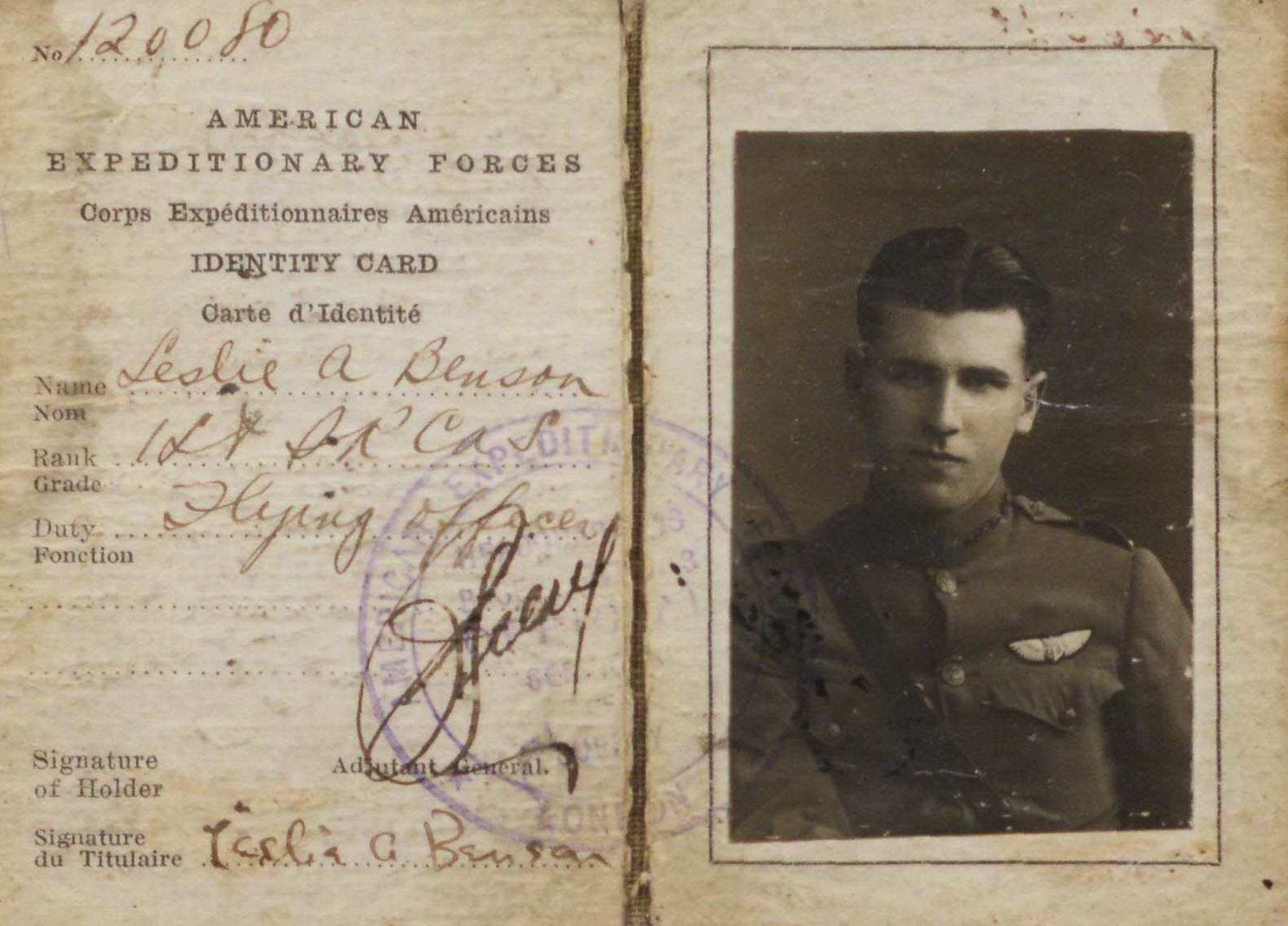 Among Benson's papers is a list of students and instructors dated July 26 [1918]; it does not indicate where the instruction was taking place, but one of the other instructors was a "Lt. Gaines," probably Albert Belding Gaines, who taught at the Third Aviation Instruction Center at Issoudun.13 And, indeed, a memo from Geoffrey J. Dwyer, who oversaw American pilots in training in England, includes Benson, along with a number of other second Oxford detachment men, in a long list of men at the 3rd A.I.C. in July.14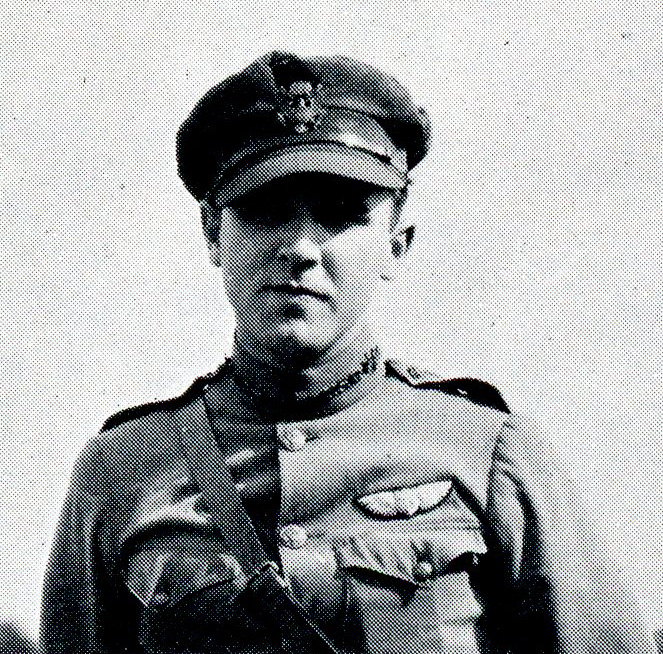 A further list among Benson's papers, dated August 6 [1918], shows him involved in DH-4 instruction; another dated August 28, 1918, puts him at "HQ. Field No. 7," presumably at Issoudun, continuing DH-4 instruction, and a memo from September 17, 1918, has him in charge of "spirals" and stipulates that students at Field No. 7 "reporting for formations and spirals will report to Lt. Benson for landings."
Not long after this, Field No. 10 was opened at Issoudun, and at some point Benson was transferred to the new field. In the history of the field, written in late November 1918, Benson is among the staff "honorably mentioned in connection with the success at Field 10″; he is described as a "Testor of Students."15 An article about Field 10 in the Plane News (the "Air Service Paper of the A.E.F.," published at the 3rd A.I.C.) for February 8, 1919, thanks and lists the "Efficient Instructor Staff," including Leslie A. Benson.16 Apropos of training aviators at Issoudun, Hiram Bingham, who was in charge of the flying school there, recalled that "With a sense of the importance of having the best possible teachers and a keen realization of the old adage that 'a stream cannot rise higher than its source,' it was early determined to retain only the very best American pilots for teachers and instructors."17
Around the time of the armistice Benson was assigned to the U.S. 258th Aero Squadron.18  The 258th was an observation squadron that had been flying French Salmsons out of Mathay Aerodrome in eastern France near the border with Switzerland since the end of October; on November 11, 1918, it was in the process of moving north to take part in operations against Metz. After the war, in April 1919, the 258th was moved to Weißenthurm near Koblenz as part of the Army of Occupation and was tasked with reconnaissance and photographic flights of urban and industrial areas.19 Benson presumably participated in these operations before he was discharged in the summer of 1919.
On returning to the U.S. Benson took up medical studies at the University of Buffalo and set up a medical and surgical practice in Buffalo, New York.20
mrsmcq May 17, 2017; revised September 30, 2020
Notes