(Philadelphia, Pennsylvania, October 8, 1893 – Easton Aerodrome near Stamford, England, February 18, 1918).1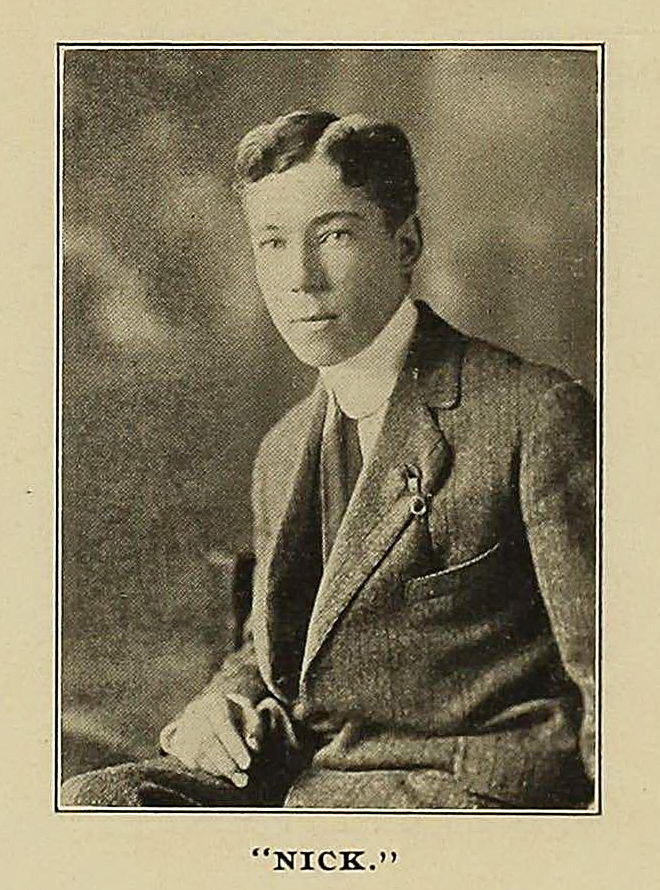 Nichol's father, James Pollock Nichol, of Irish descent, was born in Philadelphia. He married Michigan-born Matie Louise Brockway in 1892, a few years before receiving his degree in dentistry from the University of Pennsylvania and establishing what would become a well-regarded practice in Philadelphia.2 Clark Brockway Nichol, an only child, attended Germantown Academy in northwest Philadelphia, graduating in 1911.3 He entered the University of Pennsylvania and studied mechanical engineering; he apparently left without receiving his degree.4 In 1916, at the time of the Mexican Expedition, Nichol served with Troop A of the 1st Pennsylvania Cavalry, which was for a time stationed at El Paso, Texas. The following year, from May through early July, he was in the R.O.T.C. at Fort Niagara.5 He then transferred to the Aviation Section of the Signal Corps and attended ground school at Cornell's School of Military Aeronautics, graduating September 1, 1917.6
Like most of the eighteen men from his ground school class, Nichol chose or was chosen to continue training in Italy and was thus among the 150 men of the "Italian" or "second Oxford detachment" who sailed from New York for Europe on September 18, 1917, on the Carmania. After a brief stopover at Halifax the Carmania joined a convoy for the voyage across the Atlantic. The men sailed first class and enjoyed some leisure, including concerts featuring the violinist Albert Spalding, who was on board. They also had Italian lessons, conducted by Fiorello La Guardia, and, once they entered dangerous waters, they took turns at submarine watch. When the ship docked at Liverpool on October 2, 1917, the detachment members learned that they were not to go to Italy, but to remain in England for their training. They travelled by train to Oxford, where they attended ground school (again) at the Royal Flying Corps's No. 2 School of Military Aeronautics.
Early in November 1917, twenty members of the detachment were selected to begin flying training at Stamford in southwest Lincolnshire, while the remaining men, including Nichol, travelled farther north to Grantham to attend machine gun school at Harrowby Camp; they were in a holding pattern because there were not yet openings at training squadrons to accommodate them. A group of fifty men were able to set off for training squadrons on November 19, 1917, but Nichol was among those who remained at Grantham through the end of November, which meant that he received about two weeks of training on the Vickers machine gun, followed by two on the Lewis.
Finally, on December 3, 1917, all of the men still at Grantham were posted to flying squadrons. Nichol, along with his ground school classmates John Joseph Devery, Wilbur Carleton Suiter, and Grady Russell Touchstone, as well as Walter Ferguson Halley and Clayton Joseph Knight, was assigned to No. 44 Squadron at Hainault Farm near Ilford on the northeastern outskirts of London.7 No. 44 was an operational rather than a training squadron, one of the home defense squadrons tasked with protecting London against German Zeppelins and Gothas. By 1918 the pilots of No. 44 were flying Sopwith Camels, some of which were adapted to night flying in response to German nighttime raids. Knight later recalled that "No. 44 Squadron was an eye-opener for all of us. There was absolutely no formality in the Mess, in contrast to our experiences at Oxford and Grantham, where military procedures were the stiffest we had met, and the Camels were a revelation of trimness and grace in the air."8 Needless to say, the men did not receive instruction on Camels (single-seaters, notoriously difficult for inexperienced fliers). Instead, "The squadron's pilots were supposed to teach us during quiet times when there were no enemy raids, and we were loaned a BE2c for that purpose."9 The B.E.2c was a two-seater, originally designed for reconnaissance and bombing, but by this time obsolete.
Nichol made his first flight on December 8, 1917.10 After that there were "a number of interruptions in our training from a source other than marauding German night-bombers. 44 Squadron was often asked to perform exhibition flights in London." Knight noted that Nichol was among those unhappy with the delays: "he wanted to get on with the war before it ended."11
In January 1918, according to Knight, "we six Americans were posted away to a regular flying training unit at Stamford."12 Nichol, and perhaps the others, was assigned to No. 5 T.D.S., with its aerodrome at Easton-on-the-Hill southwest of the town (No. 1 T.D.S., where a number of men from the first and second Oxford detachments were stationed, was also near Stamford). By mid-February Nichol had flown just over five hours dual; on February 18, 1918, he was cleared to make his first solo flight. A few minutes into this flight in a B.E.2e (A8712) he overbanked on a right-hand turn, and the plane nose-dived into the ground; Nichol was killed.13
Nichol was buried in England, perhaps in the Stamford Cemetery; there were no provisions while the war was still being fought for returning bodies to the U.S.14 In the summer of 1920, Nichol's parents and a cousin, Samuel Fife Wilson, accompanied by Knight, travelled to England to visit his grave.15 In September of that same year Nichol's body was returned to the U.S. and given a final resting place at West Laurel Hill Cemetery in Bala Cynwyd just outside of Philadelphia.16
mrsmcq January 19, 2021
Notes