(Newburgh, New York, February 27, 1895 – Birmingham, Michigan, November 24, 1962)1
Crookston's father died when he was very young, and he grew up in the farming household of his mother's family in Shawangunk, New York.  When he registered for the draft on June 1, 1917, his home was Detroit, but he was in the R.O.T.C. at Fort Sheridan, Illinois, and was supporting his mother.  The 1940 census indicates he had four years of college, but I have not been able to determine where.2  Crookston attended ground school at the University of Illinois, graduating with the class of September 1, 1917.3
Along with most of his ground school classmates Crookston chose or was chosen for flight training in Italy and thus sailed with the 150 men of the "Italian" or "second Oxford detachment" to England on the Carmania.  They departed New York September 18, 1917, made a stopover at Halifax to join a convoy for the Atlantic crossing, and arrived at Liverpool on October 2, 1917.  There they learned to their initial consternation that they would not go to Italy but would remain in England and attend ground school (again) at the Royal Flying Corps's No. 2 School of Military Aeronautics at Oxford University.  A month later, on November 3, 1917, most of the detachment, including Crookston, travelled to Grantham in Lincolnshire to attend machine gun school at Harrowby Camp.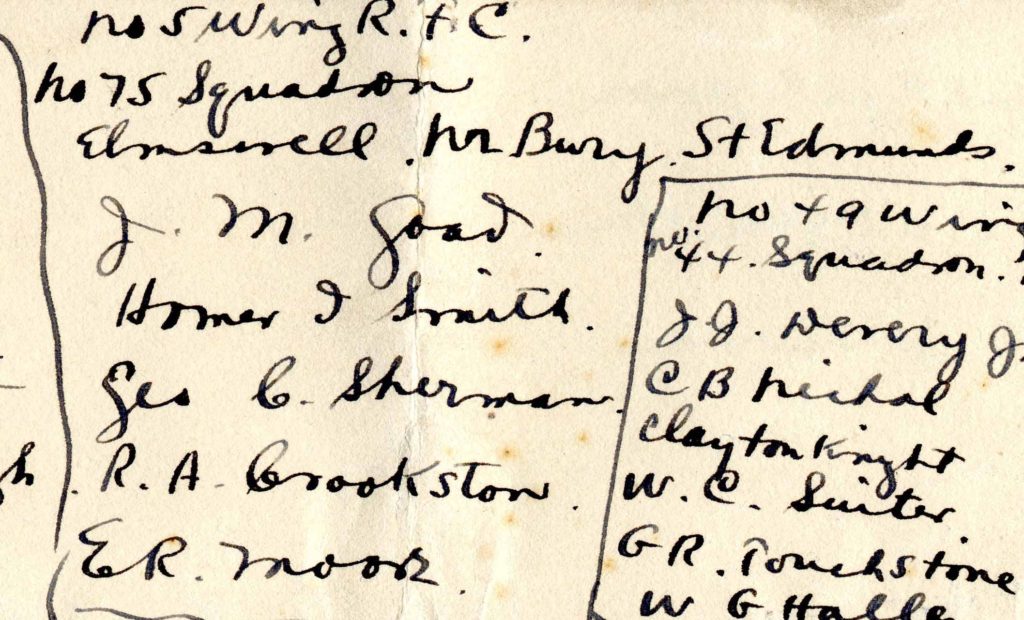 In mid-November fifty of the men were selected to go to flying squadrons, but Crookston was among those who remained at Grantham through Thanksgiving and the end of November.  Finally, on December 3, 1917, the remaining men were posted to flying schools, and Crookston was one of five sent to No. 75 Home Defense Squadron at Elmswell in East Anglia (the others were John Marion Goad, Edward Russell Moore, George Clark Sherman, and Homer Ireland Smith).4
It appears that Crookston's training for some time proceeded slowly.  His name was among those in a cablegram that Pershing sent to Washington on April 8, 1918, with the recommendation that they  be commissioned "First Lieutenants Aviation Reserve non flying" on the understanding that they would be "transferred as flying officers" once they had advanced sufficiently in their flying training.  The confirming cablegram did not arrive until over a month later (there was considerable grumbling among the cadets about their delayed commissions). Finally, on May 30, 1918, Crookston was put on active duty status.5
I find no records documenting which squadrons Crookston trained with, but the diary of Harold Ernest Goettler makes clear that Crookston was at Sedgeford in Norfolk in May and June 1918, perhaps, like Goettler, assigned to No. 9 Training Squadron, or perhaps at No. 110 Squadron, an operational squadron that evidently also provided instruction.5a  Goettler, in his diary entry for May 19, 1918, recounts how he and several others, including second Oxford detachment members Allen Tracy Bird and "Crookson" "were invited to take tea with Lord Leicester at his estate in Holkam Hall a beautiful place" not far from Sedgeford.  By June 10, 1918, Goettler had got Crookston's name right; he was one of a group of men who enjoyed an informal late night feast in Goettler's room. Two days later Goettler and Crookston cycled to nearby Hunstanton to play tennis; they went there for tennis again on June 17, 1918. They evidently went their separate ways in early July 1918 when Goettler was sent overseas; I have found no documentation of Crookston's activity during the remainder of the summer or early autumn.
On September 20, 1918, Crookston, along with fellow second Oxford detachment members Dana Edmund Coates and George Dana Spear, reported to the U.S. 11th Aero Squadron at Amanty.6  The 11th had arrived in France in mid-August. Its first flying officers arrived on September 1, 1918, and more on the 12th (including Vincent Paul Oatis, Robert Brewster Porter, Fred Trufant Shoemaker, and Walter Andrew Stahl from the second Oxford detachment), but the squadron was still not up to full strength.7  With an insufficient number of planes (DH-4s8) and pilots, and with most of the pilots inexperienced in combat, the 11th nonetheless joined the 96th and 20th Aero Squadrons to make up the 1st Day Bombardment Group two days before the opening day of the St. Mihiel Offensive (September 12, 1918), which it was to support.  By the end of the day on September 18, 1918, fourteen pilots and observers from the 11th (35% of the roster of officers) had been killed or taken prisoner, including their commanding officer.8a  This was the decimated and demoralized squadron that Crookston joined two days later.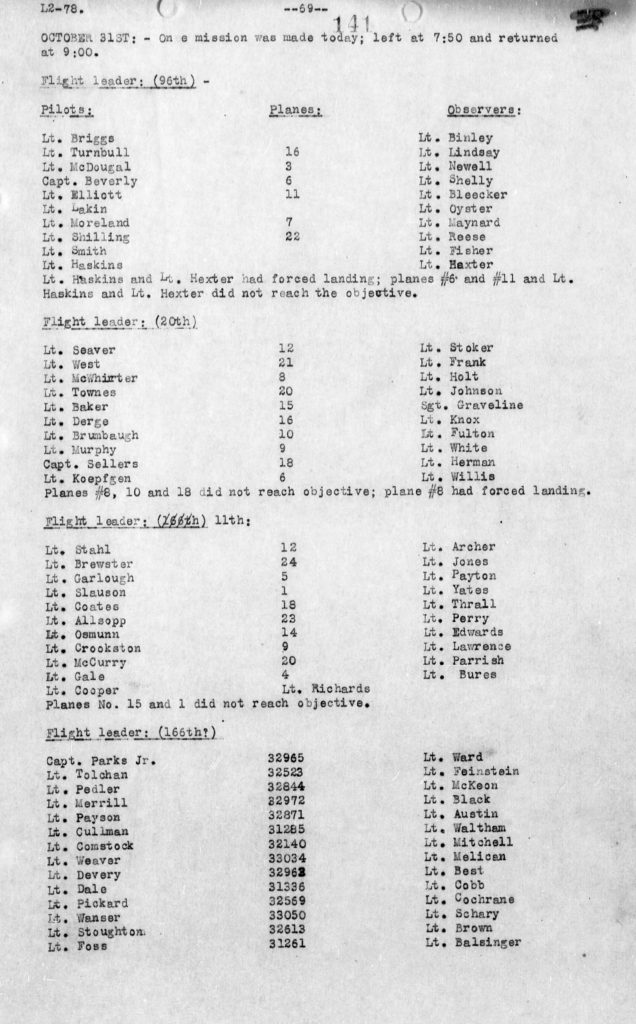 The day after Crookston arrived at the 11th, a new C.O. was assigned:  Charles Louis Heater, Crookston's fellow second Oxford detachment member.  Heater by now had considerable experience flying DH.4s with No. 55 Squadron of the Independent Air Force, and between his skilled leadership and recognition by higher ups that changes needed to be made, the 11th was able to come back from the brink. In a very short period, Heater taught his pilots close formation flying, and the 1st Day Bombardment Group started using larger and thus better protected formations during the Meuse–Argonne Offensive, whose way had been prepared by St. Mihiel.9  On about September 24, 1918, the 1st Day Bombardment Group, including the 11th Aero, moved about twenty miles northwest from Amanty to Maulan as part of the extension of the American First Army's front from the St. Mihiel sector to the Argonne Forest.
Crookston flew his first mission on October 2, 1918, as part of a formation of twenty-two planes from the 11th and 20th squadrons that took off at 9:40, following a formation of planes from the 96th and 11th; the objective of Crookston's formation was St. Juvin (about fifty miles north northwest of Maulan), which was bombed at 11:25. Crookston's observer on this and all his subsequent missions was Henry Donald Lawrence, who had arrived at the squadron the preceding day.10  Over the course of October and into November, Crookston and Lawrence flew a total of eighteen missions, sometimes flying two a day.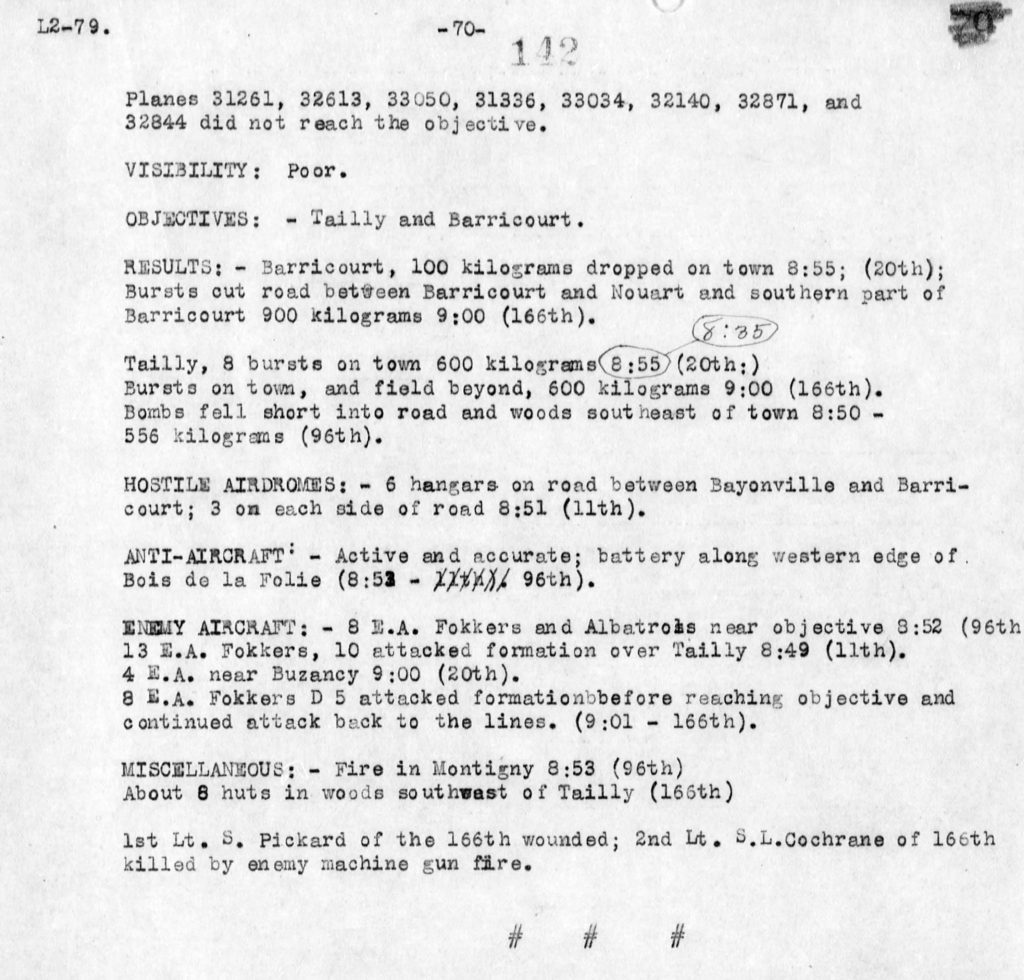 Their last flight, when none of the planes of the 11th actually crossed the lines, was on November 5, 1918.11
Crookston remained in Europe until early April, when he was finally able to sail home on the S. S. Patricia, arriving in Boston on April 17, 1919.  He returned to Michigan and became an investment banker.
mrsmcq June 7, 2017; revised February 2020 to reflect information in Goettler's diary