(West River, Maryland, May 3, 1896 – near Kortrijk, Belgium, July 29, 1918).1
Cheston was born into a prominent Maryland family.  A great-uncle, Galloway Cheston, was the first president of the board of trustees of Johns Hopkins University.2  On his Canadian-born mother's side, he was distantly related to Josiah Bushnell Grinnell, the founder of Grinnell College.  Also on his mother's side, a second cousin, Duncan William Grinnell-Milne, had been a pilot in No. 16 Squadron R.F.C. and would in 1918 join No. 56 Squadron R.A.F. and become its commanding officer.3  A first cousin on his mother's side, Andrew Blyth McCulloch Bogle, had been killed leading an assault on Longueval early in the Battle of the Somme.4
Cheston was in the Signal Corps as early as 1911 when he was a pupil at St. John's College Preparatory School in Annapolis (where yet another cousin, Daniel Murray Cheston, Jr., was briefly on the faculty as a professor of military science and tactics, and was, also briefly, commandant of the campus Signal Corps).5  Cheston was singled out as a "distinguished cadet" in the Signal Corps and received a medal as an expert rifleman as he continued as a student of mechanical engineering at St. John's College with the class of 1917.6  He is not listed in the college roster after 1915, but is posthumously listed as "class of 1916."7  Cheston's R.A.F. service record lists his "occupation in civilian life" from March through May 1917 as "farmer."8  Perhaps at this time he was thinking of following the Cheston family tradition of "gentleman farmers."  A description of his uncle Robert Murray Cheston could equally apply to him: "descended from the area's landed, tobacco-growing elite . . . part of the privileged planter class that dominated Chesapeake society and politics during the Colonial Period, and remained very influential throughout most of the 19th century."9  However, a military career was evidently more appealing.  He joined the Reserve Officers' Training Corps at Fort Myer, Virginia, on May 3, 1917.10  He went on to ground school at Cornell—where Daniel Murray Cheston, Jr., was now commandant—and graduated August 25, 1917.11
Along with three quarters of his Cornell classmates, Cheston was selected for training in Italy and was thus among the 150  men of the "Italian" or "Second Oxford Detachment" who sailed to England on the Carmania.  They docked at Liverpool at the beginning of October to find that they were not to go to Italy after all, but to train with the Royal Flying Corps in England.  They attended ground school (again) at the R.F.C.'s No. 2 School of Military Aeronautics at Oxford University.  On November 3, 1917, Cheston, along with most of the rest of the detachment left for machine gun school at Harrowby Camp, near Grantham, in Lincolnshire.  He was not among the fifty who proceeded to flying schools on November 19, 1918, and thus remained at Grantham through November.  On December 3, 1917, word came that the remaining men were posted to flying squadrons, and Cheston was one of eight assigned to No. 31 Training Squadron at Wyton, about fifteen miles northwest of Cambridge.12

Cheston's R.A.F. service record provides no details of his training except to indicate the planes he had flown, all two seaters:  DH.6 (a trainer aircraft), B.E.2c (an obsolete reconnaissance plane repurposed as a trainer), R.E.8 (used for reconnaissance and bombing), and DH.9 (a bomber, also used for reconnaissance).  By the latter part of February 1918 Cheston had completed enough flight training to be recommended for a commission, and Pershing's cable forwarding the recommendation to Washington is dated February 28, 1918.  The confirming cablegram announcing his appointment as a first lieutenant is dated March 11, 1918.13
Cheston was posted to the R.A.F. on May 29, 1918.  John Stephen Blanford, in his valuable account of No. 206 Squadron during World War one, writes that it was on this day that Cheston joined 206, "the same day as I myself did." However, Cheston's casualty form indicates that on May 29 Cheston was posted to 1 A.S.D. but was not assigned to 206 until June 27, 1918. He thus joined the squadron nearly a month after three other second Oxford detachment members: Harry Adam Schlotzhauer, John Warren Leach, and Hugh Douglas Stier.14
No. 206 Squadron was stationed at Alquines, about twenty miles from the coast, east of Boulogne and south-southeast of Calais.  The squadron had since February 1918 been flying DH.9s, and, in addition to bombing raids, they did a great deal of aerial reconnaissance.15   Blanford described 206's remit during this period as follows:
". . . our sector of operations, which was in fact the 2nd Army Front, ran from Houthulst Forest, 10 miles north of Ypres down as far as Nieppe Forest, 20 miles SW of that battered but unconquered old city [Ypres]–roughly 30 miles in all. The fierce fighting of the battle of the Lys (the final phase of the great German spring offensive) had petered out by the end of April and the 2nd Army Front had been stabilised. Since then the war on the ground had been passing through a relatively quiet period, with both sides resting and regrouping. In the air, however, there was still no lack of activity, and all 11 Wing squadrons were in the air whenever the weather permitted flying; . . ."16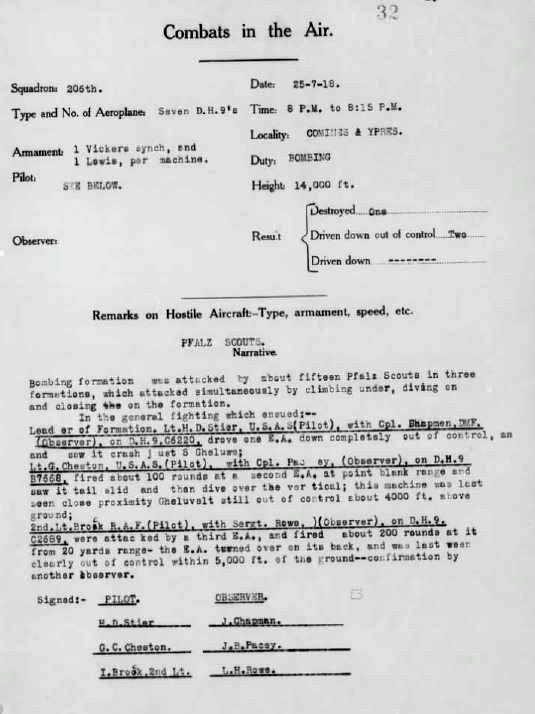 There is little information about Cheston during his service with 206 other than a combat record for July 25, 1918.  A formation of seven DH.9s from No. 206, including ones flown by Cheston and Stier, had gone out on a bombing mission in the evening and was flying at 14,000 feet in the vicinity of Ypres and Comines when they "were attacked by about fifteen Pfalz Scouts in three formations, which attacked simultaneously by climbing under, diving on and closing on the formation."  Stier, who was leading the formation, and his observer James Chapman "drove one E.A. down completely out of control, and saw it crash just s[outh of] Geluwe."  Cheston, flying DH.9 B7668 with Joseph Woodley Pacey as his observer, "fired about 100 rounds at a second E.A. at point blank range and saw it tail slid [sic] and then dive over the vertical; this machine was last seen close proximity Gheluvelt still out of control about 4000 ft. above ground."17  A third Pfalz was sent down out of control by Brock and his observer Rowe.18  A later document indicates that Stier and Cheston shared credit for the first (destroyed) Pfalz, giving Cheston either 1.5 or 2 victories, depending on the system for crediting them.19

On July 29, 1918, pilots from No. 206 Squadron flew two bombing missions over Courtrai (Kortrijk). Blanford describes them (although since he was himself on a reconnaissance mission, his knowledge is second hand):
During the first raid, some Pfalz fighters attacked the 206 formation on their way home, two being shot down. . . . During the second raid, in the late afternoon, a much hotter fight took place, the eight aircraft of our formation being attacked by a far larger number of Pfalz—Schlotzhauer stopped counting at 20!—while our chaps were about to drop their bombs. In the ensuing combat, 206 shot down four Pfalz, a notable feat achieved at some cost. Schlotzhauer and Williams were badly shot up. . . . Williams was hit in the left arm. . . . Our other casualties were Lt Cheston, US Army and his observer, who were both killed; and 2 Lts Percival and Paget. 20
An unnamed comrade is recorded as having given the following account:
The day that 'Chess' did not return our squadron was very hard hit.  They set out to bomb Courtrai railroad station and yards, which at that time were at least fifteen miles beyond the front lines.  'Chess' had been having a little engine trouble for two or three days preceding, but it was not serious enough to prevent his crossing the lines.  On this raid about 4 P.M. they had to run through a pretty stiff 'archie' barrage, but as they approached the target at about fourteen thousand feet altitude the barrage died away.  They dropped their bombs, and as the formation turned it was noticed that 'Chess' was slightly lower than he should have been, but not seriously out of his position in the formation.  Just as they were turning they were attacked by about three times their number of Huns, and from there on it was a running fight back to the lines.  Several pilots and observers noticed that one machine seemed to be losing altitude, as if the engine was not giving its full power, and it was assumed that the pilot was depressing the nose of his machine in order to keep up his speed and not fall behind the others, thus keeping under the formation for protection.  Each machine was engaged in desperate fighting all this time and making for the lines, so that no one really had an opportunity to look about him to see how the others were faring.  However, one pilot states that he saw 'Chess'' machine, which was getting lower and lower, though still under control, and the last anyone saw it was surrounded by five or six Huns, and was manoeuvering desperately to get away or beat them, but obviously the odds were too great.21
Henshaw, in his entry for Cheston in The Sky Their Battlefield II notes that there was a "'BF' claim combat Gheluvelt 7-35pm Ltn F Ritt vRöth Ja16." If the Bristol Fighter claimed by Friedrich Röth of Jagdstaffel 16 was in fact Cheston's DH.9 , then Cheston was shot down near the site of one of his own victories four days previously.
Cheston was initially reported missing in action.22  In late July of 1919, his mother was notified that he, her only child, had been declared killed in action.23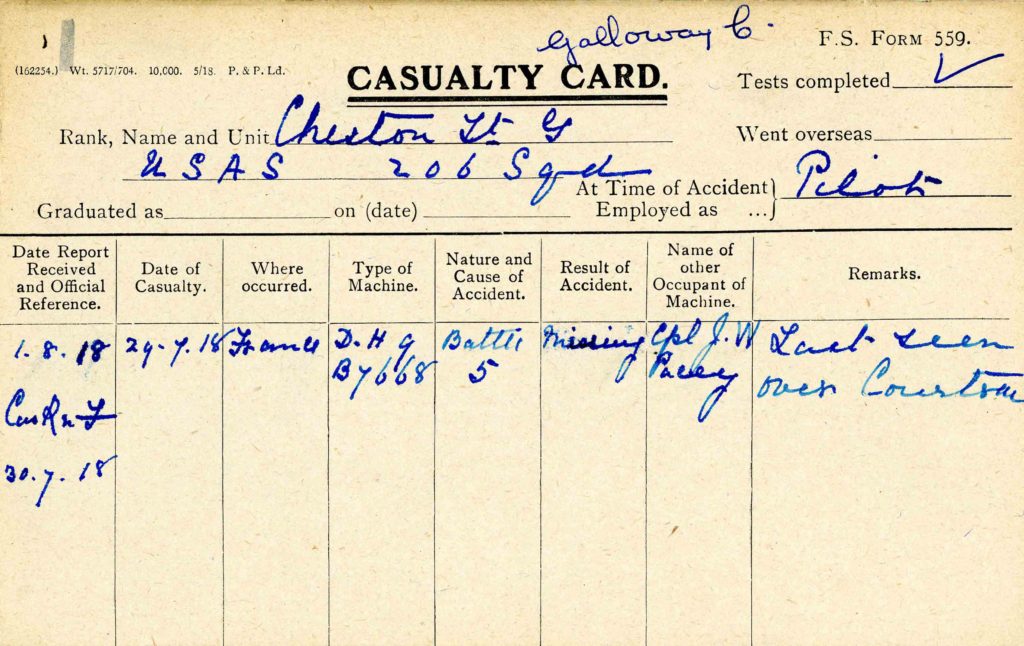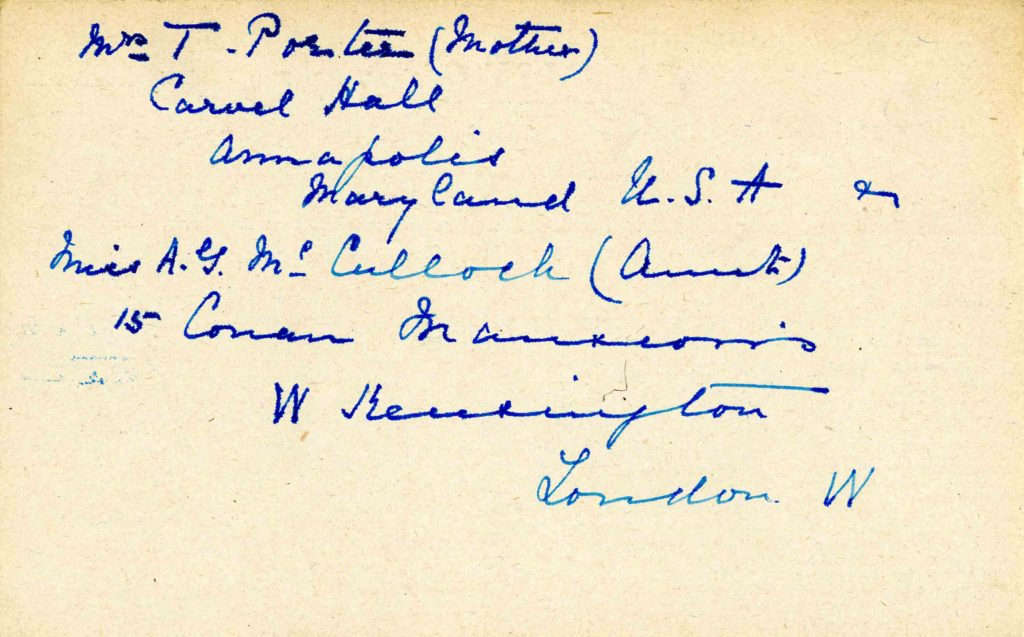 Cheston's remains were not recovered.  He is memorialized at the Flanders Field American Cemetery and Memorial in Waregem, Belgium, where his name appears on the wall of the chapel along with forty-two others "who fought in this region and who sleep in unknown graves."24
Cheston's observer, Pacey, had joined the Royal Navy in September of 1916 and had been transferred to the R.A.F. in March of 1918.25  His brother, James Wabe Pacey, a private in the East Lancashire Regiment, was killed on July 12, 1918.26  Joseph Woodley Pacey, whose body, like Cheston's, was not recovered, is memorialized at the Arras Flying Services Memorial.27
mrsmcq May 31, 2017
Revised February 20, 2019, to reflect Cheston's casualty form