(Ridley Park, Pennsylvania, April 20, 1890 – east of Cambrai, Sept. 29, 1918).1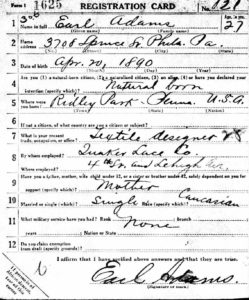 When Adams registered for the draft on June 6, 1917, he indicated that he was a textile designer at the Quaker Lace Company in Philadelphia and was supporting his widowed mother.
As early as 1910, according to census record information, he had been a lace designer with his own company.2  I have found no documentation of university attendance. He went to ground school at Ohio State University, graduating Sept. 1, 1917.3
Along with most of the rest of his O.S.U. classmates, Adams chose or was chosen for training in Italy and sailed as one of the 150 men of the "Italian" or "second Oxford detachment" on the Carmania, departing New York for Halifax on September 18, 1917, and departing Halifax as part of a convoy for the Atlantic crossing on September 21, 1917.  Violinist Albert Spalding, also on board, describes how, on being moved from steerage to first class, he found himself "quartered with three cadets. . . .  One of the three, a quiet lad by the name of Adams, told me of his love of music. He was shy about it.  We were friends at once."4  The two of them gave a violin concert together in the library the day after the ship left Halifax.5
After an uneventful crossing, the Carmania docked at Liverpool on October 2, 1917.  There the men were ordered to proceed not on to Italy as they expected, but to Oxford, where they were to repeat ground school under the auspices of the Royal Flying Corps's School of Military Aeronautics, much to their initial disgruntlement.  Various explanations have been offered for the snafu, to use an acronym from the next war.6  Whatever the reason, the detachment fairly quickly made their peace with the change and in retrospect recognized the benefit of R.F.C. training.
On November 3, 1917, Adams and most of the detachment members left Oxford for machine gun school at Harrowby Camp, near Grantham in Lincolnshire.  About two weeks later, it was determined that fifty of the men could go to training squadrons.7  Adams was among the fortunate fifty, and his R.A.F. service record indicates that on November 19, 1917, he went to No. 31 Training Squadron, which was then at Wyton; Robert Alexander Anderson, Guy Maynard Baldwin, Thomas John Herbert, and Stanley Cooper Kerk were posted to Wyton at the same time.8
On December 28, 1917, Adams was transferred to No. 65 Training Squadron, which was stationed at Dover and trained pilots using Avros and Camels.9  Weather and flying opportunities must have been favorable, because by early February Adams had completed enough flying to be recommended for his commission as a first lieutenant.  The men whose names, including Adams's, that Pershing forwarded to Washington in his cable of February 16, 1918, were among the first to achieve this status.  The confirming cablegram is dated March 1, 1918.10
There is little information on Adams's subsequent training activities; possibly he remained for some time with No. 65 T.S.   However, he presumably also spent some time training with a squadron other than 65, given that he later flew Bristol Fighters, which were not in 65's repertoire.11   When Adams was placed on active duty on March 20, 1918, he was at Ayr, presumably near the completion of his training.11a   In May of 1918 he was in London, perhaps reporting to American Aviation HQ at 35 Eaton Place.  Joseph Kirkbride Milnor, who was employed there, noted in his diary on May 4, 1918, that "We had a sort of Columbus reunion at luncheon at the Knightsbridge. Dud Mudge, . . . Earl Adams, Red Wheeler, . . . and myself."  Adams's name appears on a list of Sopwith Camels being flown from Lympne to Orly in early July 1918, so he spent at least some time as a ferry pilot before being posted to an operational squadron.12
Finally, on September 11, 1918, according to his R.A.F. service record, Adams went to 1 Aeroplane Supply Depot ("1 A.S.D."), located at Marquise, and from there, two days later, to No. 22 Squadron R.A.F.13  No. 22 was stationed at Maisoncelle, about ten miles northwest of St. Pol, and was flying Bristol F.2B's, two-seaters designed for both fighting and reconnaissance.14  The duties of No. 22 Squadron included serving as escort during bombing raids and aerodrome strafing, as well as flying high level offensive patrols. Adams and "O. W. Williamson" were apparently the first—and perhaps the only—Americans to join the squadron.15
Adams's arrival coincided with a period of relative calm caused partly by bad weather and partly by deliberate policy as preparations were being made for the final assault on the Hindenburg line towards the end of September.16  Assuming No. 22 Squadron observed the R.A.F. regulation restricting pilots from going over the lines before they had been two weeks at the front, Adams had from September 13 to September 26, 1918, to become acquainted with his squadron and the geography of the area.17  However, "at first light on the 27th, the First and Third Armies went into action," advancing towards Cambrai.18  "First Army [aerial] offensive formations, to be provided by No. 19 and 22 Squadrons, were to patrol between 4,000 and 8,000 feet to protect the low-flying aircraft and day bombers, and were also to attack German aeroplanes and balloons in the area of operations."19
I have not located records indicating whether Adams took part in the patrols on September 27 and 28, 1918, but given the all out nature of the effort it is likely that he did.  What is certain is that on September 29, 1918, he and his gunner/observer, Sgt. George Herbert Bissell, flying Bristol F.2B E2266, set out around 10 a.m. on an offensive patrol as part of C flight. Flying at about 17,000 feet, apparently escorting a flight of S.E.s, they met a formation of Fokkers about seven miles east of Cambrai.  A fight ensued in which their plane was shot down over enemy territory.20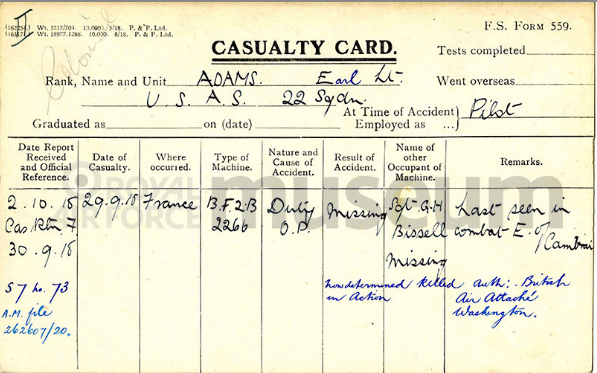 Adams was initially reported as a prisoner of war and then as missing in action.21  In the casualty list released July 2, 1919, Adams had been moved to the killed in action list.22  His remains were at some point recovered, and he was buried in the Somme American Cemetery and Memorial, Bony, France.23  The cross marking his grave mistakenly indicates he was with the [U.S.] 22nd Aero Squadron.24  Adams left a mother (Isabel) and two sisters (Isabel and Margaret).25  His mother was able to visit his grave in 1930.26
Nineteen year old Bissell, Adams's gunner/observer, was the only child of Herbert Simeon and Florence Ada (née Horton) Bissell.  Before he joined up he worked as a mechanic at a steel works near his home at Brierley Hill, Staffordshire.  He served initially in Motor Transport, then in the Rifle Brigade.  He transferred to the R.F.C. in about March of 1918 and trained at Reading and at Eastchurch.  Qualified as a night-bombing observer, he went to France around September 8, 1918.27  He was initially reported as missing; his body was eventually recovered and buried in the St. Aubert British Cemetery.28
mrsmcq April 15, 2017; updated August 20, 2020, to reflect Milnor diary