(Iron River, Michigan, March 11, 1893 – November 7, 1966, Milwaukee, Wisconsin).1
Both of Morrison's parents were from New Brunswick, Canada; his grandfather Morrison had arrived in Canada from Perthshire, Scotland, as a small boy. Morrison's mother, born Clara Olive Waters, was descended from a Loyalist from New Jersey who, along with his wife, a sister of John Jacob Astor, relocated to Canada in 1783. Morrison's father, Finlay A. Morrison, and mother apparently came independently from New Brunswick to the U.S. They married and settled in Iron River on the Upper Peninsula of Michigan where Finlay A. Morrison established the Morrison Mercantile Company. There were five children, three boys and two girls; Finley Austin Morrison was the middle child.2
Morrison attended the Shattuck Military School in Faribault, Minnesota, from about 1910 to about 1912 and then went on to the University of Michigan at Ann Arbor, graduating in 1916.3 When he registered for the draft in June 1917 he was living in Brockport, New York, and working as a cost accountant for the Moore Shafer Shoe Company.4 He enlisted in the reserve corps at Buffalo, N.Y., on July 7, 1917, and went on to attend ground school at Cornell's School of Military Aeronautics in the class that graduated September 1, 1917.5
Most of the eighteen men from Morrison's ground school class chose or were chosen to continue their training in Italy and were thus among the 150 men of the "Italian" or "second Oxford detachment" who sailed from New York for Europe on September 18, 1917, on the Carmania. After a brief stopover at Halifax the Carmania joined a convoy for the voyage across the Atlantic. The men sailed first class and enjoyed some leisure, including concerts featuring the violinist Albert Spalding, who was on board. They also had Italian lessons, conducted by Fiorello La Guardia, and, once they entered dangerous waters, they took turns at submarine watch. When the ship docked at Liverpool on October 2, 1917, the detachment members learned that they were not to go to Italy, but to remain in England for their training. They travelled by train to Oxford, where they attended ground school (again) at the Royal Flying Corps's No. 2 School of Military Aeronautics.
In early November twenty men were selected by Elliott White Springs, who was in charge of the cadets (as they were now called), to begin flight training at Stamford. Places at training squadrons were in short supply, so the remaining men, including Morrison, were ordered to a machine gun school, Harrowby Camp, near Grantham in Lincolnshire. When not doing course work or practicing on the range, the men explored the countryside and nearby towns. An entry in War Birds for November 12, 1917, recalls that "Well, the old man is himself again. [John Hurtman] Jack Fulford, Cal [Laurence Kingsley Callahan], Morrison, [John Warren] Leach and I went to Nottingham over the week-end. We didn't get very drunk." And, at no small expense, the men were obliged to outfit themselves in a manner that satisfied their American and British superiors: "Morrison came in to-night with a beautiful bun and a new pair of boots. They were tight too and it took four of us to pull them off."6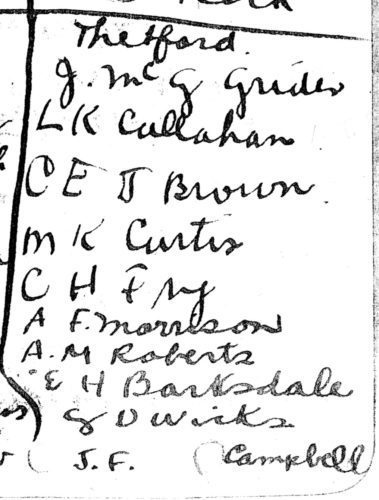 In mid-November it was announced that there were fifty places at training squadrons, and Morrison was among those selected to fill them. He and nine others were assigned to Thetford in Norfolk;7 five went to No. 12 Training Squadron, and five—Morrison, Eugene Hoy Barksdale, Alexander Miguel Roberts, Glenn Dickenson Wicks, and Jesse Frank Campbell—to No. 25 T.S. According to Barksdale, he, Morrison, Roberts, and Wicks roomed together at Thetford.8
The training plane used at No. 25 T.S. was the Maurice Farman S.11, nicknamed "Rumpty" or "Rumpety," a "pusher," i.e., with the propeller behind the cockpit.9 Winter wind, rain, and snow meant there were many days with no flying, but Barksdale was able to make a first flight on November 30, 1917, and Morrison presumably began flying at around the same time, initially dual, but, assuming his training proceeded along the same lines as Barksdale's and Jesse Campbell's, solo before Christmas.10 On December 19, 1917, Morrison joined Campbell in an outing to Norwich, where they "had dinner at The Royal with Lt. Col G[eorge] H[addon] Bower and his wife."11 Campbell does not indicate how it came about that they dined with an officer of the Black Watch (Royal Highlanders), who invited him and Morrison to visit; Campbell, and presumably Morrison, was impressed that Bower's wife was the sister of Mary Garden, a well-known operatic soprano.

From Thetford, Morrison was posted to London Colney and No. 74 Squadron. The date of his posting is uncertain, but, if his course continued to resemble Barksdale's and Jesse Campbell's, it was before the turn of the year. No. 74 was, until March 1918, a training squadron. James Ira Thomas Jones ("Taffy" Jones) was there and recalled the influx of Americans: "Our school was lucky enough to get such grand types as Ken [sic] Curtis . . . Fred Stillman, Alexander Roberts, Clarence Fry, H. G. Shoemaker, C. Matthiessen, W. V. [sic] Wait and A. F. Morrison."12 The aerodrome and accommodations were in general primitive, but some of the American cadets were lodged at the Red Lion in nearby Radlett where, as Marvin Kent Curtis wrote his sister, they were "more comfortably settled than at any other place I have been in the R.F.C. . . . I am rooming with five other Americans who came over with me, Fry of Columbia, Tenn., Fred Stillman, Matthiessen and Wicks—all Yale men, and Austin Morrison of Iron River, Mich."13

At London Colney Morrison would have trained on Avros, again initially dual and then solo. By mid-February he was ready to do the requisite cross country flight which typically consisted of flying south via Northolt to Hounslow and back.14 Jesse Campbell noted in his diary on February 17, 1918, that "Morrison, Matheson [sic], and Roberts did their cross country this afternoon and came back in fog." Presumably not long after this Morrison moved on to training on Sopwith Pups and completed the other requirements to qualify for his commission and wings. On March 6, 1918, Pershing forwarded the recommendation for his commission to Washington; approval came back on March 17, 1918, and Morrison was placed on active duty on March 29, 1918.15
By this time, Morrison was presumably at No. 56 Training Squadron, across the field at London Colney from No. 74. Early in March No. 74 had become an operational squadron preparing to go to France; the Americans in training with the squadron were reassigned. Details of Morrison's further training are lacking. He presumably spent time at an advanced flying school, perhaps, like Conrad Henry Matthiessen, the one at Turnberry and Ayr or, like Barksdale, Jesse Campbell, Wicks, and Curtis, the one at Marske-by-the-Sea; his final instruction would have been on S.E.5s and/or S.E.5a's.
In early July 1918 Morrison was posted overseas. His casualty form, a record of active service postings, puts him at "No. 2 ASD" on July 8, 1918, i.e., at the pilots pool at Rang du Fliers, near Boulogne, part of the No. 2 Aeroplane Supply Depot.16  Matthiessen had arrived the preceding day.17 Like many others, they had to kick up their heels there for a while, but eventually, on July 21, 1918, they were assigned to No. 74 Squadron R.A.F.—which meant they were back with many of the men they had trained with at London Colney.18 (Their fellow second Oxford detachment member, Roberts, had also been with No. 74, but had two days previously been shot down and made a prisoner of war.)
No. 74 Squadron flew S.E.5a's and was stationed from April through September 1918 at Clairmarais near St. Omer, initially at Clairmarais Nord and then, from early August at the newer aerodrome, Clairmarais Sud, about a mile away.19 The squadron, commanded by Keith Logan Caldwell ("Grid" Caldwell), was part of the 11th (Army) Wing, II Brigade, attached to General Sir Herbert Plumer's Second Army; the Second Army front ran approximately from Houthulst Forest ten miles south to Ypres and from Ypres twenty miles southwest to Nieppe Forest.20
From the Clairmarais aerodromes the pilots of No. 74 Squadron flew line and offensive patrols, as well as, occasionally, escort, ground strafing, and wireless interception missions, all the while seeking to put enemy reconnaissance planes out of commission and to eliminate enemy scouts flying over and east of the Second Army front north and south of Ypres—all this is apparent from the account of No. 74 Squadron provided by Ira Jones in his Tiger Squadron. As with a number of other squadrons, the squadron record book and other relevant original documents appear not to have survived, and I can thus not provide details of Morrison's activities before August 7, 1918. Jones in his account of that day reports that "Morrison crashed and hurt himself on the aerodrome. He's gone to hospital."21
There appears to be no incident casualty card for this crash, but according to other records, Morrrison was flying S.E.5a C9585 on an offensive patrol when the engine failed, forcing him to crash land near the aerodrome.22 His initial hospitalization was perhaps at a facility near Clairmarais; his casualty form, as well as a personal casualty card for him, indicates that he was admitted "N.Y.D." (not yet diagnosed) to No. 14 General Hospital at Wimereux near Boulogne on August 16, 1918.  The casualty form indicates he was then discharged to No. 1 A.S.D. at Marquise on August 22, 1918, and from there was sent back to England on August 28, 1918.23
On that date Morrison's fellow second Oxford detachment member Joseph Kirkbride Milnor, working at American Aviation H.Q. at 35 Eaton Place in London, wrote in his diary that "Morrison came in. He is back from France and has had to wash out flying. He has had a talk with Capt. [P. L.] Foster and is going to be under him" (Foster was aviation purchasing officer at H.Q.).24 "We are going to try and get an apartment together." They succeeded, finding a flat apparently on Ebury Street in Belgravia not far from 35 Eaton Place: "It is a peach. Wonderfully furnished, a phone etc and four big rooms. . . . Morry is going to move in on Sunday as he is now at a hotel."25 Complications arose, but they were able to move in in mid-September 1918, and they continued to share these rooms until the end of the war.26
Milnor provides few details about Morrison's work at H.Q., but often notes when they dined out together and with whom: with Milnor's boss Geoffrey James Dwyer, with Matthiessen and his friend Frederic Ernest Luff ("Freddy"), who had also been in No. 74 Squadron, and with unnamed American nurses, one of whom was from Morrison's home town.27
Morrison, and Milnor, also spent a good deal of time with Morton Lewis Cook, and his wife Kate Cook, née Stancombe. Milnor refers to Mr. and Mrs. Cook as Morrison's "adopted" parents; whether Morrison had connections to the Cooks prior to coming to England or had met them in the course of his training is unclear. There was an R.A.F. airfield at Shoreham-by-Sea, where the Cooks lived and operated a factory that made jam, marmalade, and chutney, but the only training squadron at Shoreham, No. 3, was an elementary one where Morrison is unlikely to have been stationed.
In any case, immediately after moving into the flat on Ebury Street, Morrison spent the weekend with the Cooks, and he took Milnor with him when he went to Shoreham again the first weekend of October. At "Campsie," the Cooks' home, the two men slept late, played bridge, and enjoyed the rather sumptuous home cooking—Mrs. Cook excelled in domestic skills, very much living up to her married name. "Ma" and "Pa" Cook came up to London the following week and, after trying in vain for rooms at several hotels, ended up staying with Morrison and Milnor—and procuring theater tickets for them three evenings in a row: "Chu-Chin-Chow," "By Pigeon Post," and "Roxana." Milnor and Morrison each visited the Cooks again separately. Morrison went down to Shoreham on November 8, 1918, arriving back at the London flat on the 10th. Milnor had just heard the news that the Kaiser had abdicated.28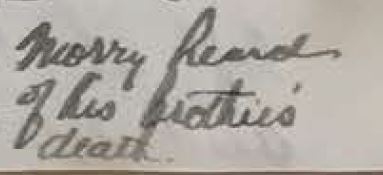 The trip to Shoreham and the end of the war were shadowed for Morrison by news he received on November 4, 1918.29 His older brother Joel Royden Morrison, a soldier at Camp Taylor in Louisville, Kentucky, had died of influenza on October 21, 1918.30
Morrison was able to return to the U.S. in December 1918, travelling in the same "casual officers" group on the Celtic as Paul Stuart Winslow of the first Oxford detachment and John Owen Donaldson, who, with second Oxford detachment member Robert Alexander Anderson, had managed to escape from a P.O.W. camp; Clarence Bernard Maloney, also of the second Oxford detachment, was on board as well.31
After the war Morrison was employed in various businesses and moved about a good deal. He worked in Tokyo and Korea after World War II and in 1953 was awarded the Medal of Freedom by President Truman for his work in Korea.32
mrsmcq September 24, 2020