(Jasper County, South Carolina, September 1, 1898 – Columbia, South Carolina, October 25, 1968).1
Bostick's forebears on both his father's and his mother's (Hagood) side had been in South Carolina since the eighteenth century; his father was manager at the exclusive Okeetee Club, a quail-hunting plantation in Jasper County near the Georgia border.2  Bostick prepared for college at The Asheville School for Boys in North Carolina and then proceeded farther north to attend Princeton (class of 1919).3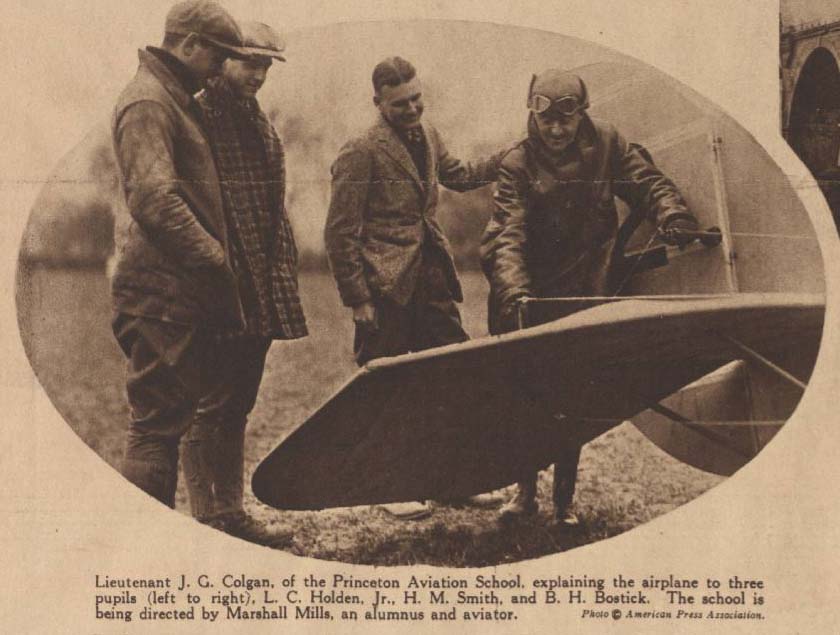 He was a student at the Princeton Aviation School, which had been established in the spring of 1917 to train Princeton students, and then became a member of the first class at the Princeton School of Military Aeronautics ("ground school") which superseded the Aviation School in June 1917, graduating August 25, 1917.4  Bostick, Elliott White Springs, and others from this class went from Princeton to an army training field at Mineola on Long Island where Springs worked out a deal that allowed him, Harold Kidder Bulkley, and Bostick to get in more time in the air.5
Having, along with other members of his Princeton ground school class, signed up to go to Italy for advanced training, Bostick set sail September 18, 1917, from New York on the Carmania  as one of the 150 men of the "Italian" or "second Oxford detachment."  Soon after the Carmania docked at Liverpool on October 2, 1917, they learned they were to train not in Italy, but England.  The month of October was taken up with attending ground school (again) at the Royal Flying Corps's No. 2 School of Military Aeronautics at Oxford.
In early November most of the men in the detachment went from Oxford to Grantham to attend machine gun school.  Bostick, however, was among the twenty men selected by Springs to go with him to No. 1 Training Depot Station at Stamford to begin flying instead; most of them had already had some flying experience and would continue their flying training at No. 1 T.D.S.6
Bostick's R.A.F. service record does not list his training squadrons, but notes the planes he had flown: Curtiss Jennys (which were used for training both at Princeton and at Stamford), Avros, Sopwith Pups, and Sopwith Camels, and that he had a general knowledge of Vickers and Lewis machine guns.  By mid-February, Bostick had evidently fulfilled the requirements for a commission; Pershing's cable forwarding the recommendation is dated February 21, 1918.  The confirming cablegram is dated March 2, 1918.7   On March 20, 1918, when he was placed on active duty, Bostick was at Wye in Norfolk, probably at No. 42 Training Squadron, where scout pilots trained on Camels.7a
An entry in War Birds for March 26, 1918, indicates that in March Bostick was in Scotland:  "Hagood Bostick came down here [Ayr] from Turnberry looking like the Queen of Sheba's favorite husband.  He had on everything but the monocle to make him Hinglish.  He had pale pink breeches, light tan tunic with skirts down to his knees and boots and gloves and cane to match. He comes from Charleston, S.C., so doesn't have to cultivate the accent.  Plucky little kid, he's only nineteen."

Bostick, along with Errol Henry Zistel of the first Oxford detachment, was assigned to No. 2 Aeroplane Supply Depot on April 4, 1918, and from there both were assigned to No. 43 Squadron R.A.F. on April 8, 1918.7b   George Clark Whiting and Henry Robinson Clay, also of the first Oxford detachment, were already assigned to No. 43, a Camel squadron, which, since March 22, 1918, had been at Avesnes-le-Comte (about ten miles west of Arras).8
On April 11, 1918, soon after arriving at No. 43, Bostick was seriously injured when he crashed Sopwith Camel D6518 during landing practice.9  Concussed, and with wounds to the face and knee, he was sent to the British No. 8 General Hospital at Rouen on April 19, 1918; three days later, he was sent back to England on the Carisbrook Castle and admitted to the R.A.F. Central Hospital in London.9a Joseph Kirkbride Milnor, who was working at American Aviation HQ in London, noted in his diary on April 27, 1918, that he "Went out to Hampstead to see Bostick who is back from France as result of a terrible crash."  Springs encountered Bostick in early May and gives a good account of his recovery in a May 7, 1918, letter to his (Springs's) stepmother.10 Excerpts from a letter dated May 24, 1918, that Bostick wrote to his parents were printed in a South Carolina newspaper in July 1918.11  He gives a gruesome description of his injuries and a cheerful account of his progress towards recovery, but few details of the accident itself.  He writes that his main concern was "being out of the swing for the time being.  I was present at the birth of our air service and I want to see it through to the end when it has outgrown the signal corps and even the army and becomes a new service on a footing with the army and navy."  According to his R.A.F. service record, Bostick was declared fit for flying duties in July.  In late October he was sent to the Central Flying School for a refresher course on Camels.  The war ended before he could return to the front.
Bostick sailed for the U.S., along with a number of other men of the second Oxford detachment, on the Mauretania, departing Liverpool on November 25, 1918, and arriving at New York on December 2, 1918.12   He returned to South Carolina and initially went into business processing peanuts; he then moved into advertising.13
mrsmcq April 27, 2017; updated August 20, 2020, to reflect Milnor diary