(Galesburg, Illinois, July 27, 1896 – Webster, New York, March 30, 1893).1
Moore, on his mother's side, could trace Careys and Websters back to early seventeenth-century New England settlers.2 Some of Moore's ancestors on his father's side had settled in New Jersey in the mid-seventeenth century;3 his paternal great-grandfather came from that state to Michigan to farm. Moore's father was a somewhat peripatetic stationery company executive who lived for a time in Chicago, and then in Galesburg, Illinois, where he married Mary Louisa Carey and where Charles Francis Moore was born. Moore's sisters, both younger, were born in Chicago and Benton Harbor Michigan.4
In 1915, Moore started at the University of Wisconsin at Madison with the class of 1919.5 The entry of the United States into the war in the spring of 1917 evidently prompted him to interrupt his studies. He joined the Aviation Section of the Signal Corps and attended ground school at the University of Illinois's School of Military Aeronautics at Urbana-Champaign, graduating September 1, 1917.6 Then, along with most of the men from his ground school class of about thirty, he chose or was chosen to go to Italy for flying training and thus sailed with the 150 men of the "Italian" or "second Oxford detachment" to England. They departed New York on September 18, 1917, on the Carmania, which made a brief stopover at Halifax before joining a convoy. During the voyage across the Atlantic, there was leisure time, but the men also took Italian lessons, conducted by Fiorello La Guardia, who sailed with them, and, once they entered dangerous waters, took turns at submarine watch.7 When the Carmania docked at Liverpool on October 2, 1917, the men learned that they were not to go to Italy, but to stay in England. They travelled by train to Oxford where they spent the month of October repeating ground school at the Royal Flying Corps's No. 2 School of Military Aeronautics.
After a month at Oxford, twenty members of the detachment were selected to begin flying training at Stamford in southwest Lincolnshire, while the remaining 130, including Moore, travelled farther north to Grantham to attend machine gun school at Harrowby Camp. They were in a holding pattern because there were not yet openings at training squadrons to accommodate them. A group of fifty men were able to set off for training squadrons on November 19, 1917, but Moore was among those who continued machine gun training through Thanksgiving and the end of November at Grantham,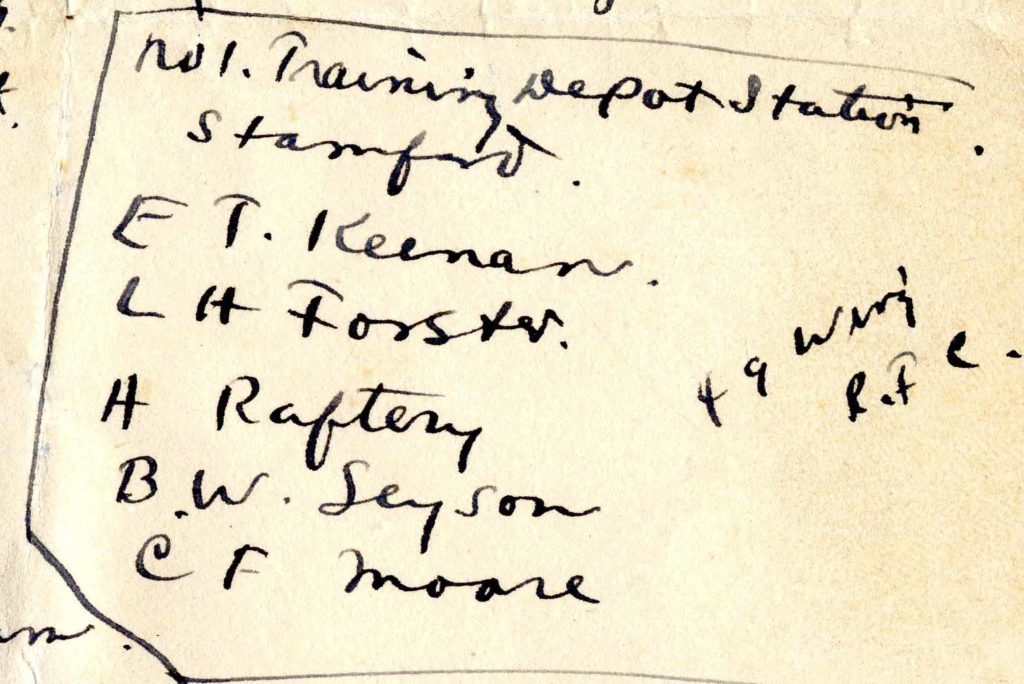 Finally, on December 3, 1917, the remaining men were posted to flying schools. According to a list drawn up by second Oxford detachment member Fremont Cutler Foss, Moore was one of five men posted this day to No. 1 Training Depot Station at Stamford, thus joining the twenty who had gone there in early November. The others in his group were Linn Humphrey Forster, Edmond Thomas Keenan, Burr Watkins Leyson, and John Howard Raftery.8 They probably would have begun their flying training at Stamford on JN-4s and Avros.
By early March 1918 Moore had advanced sufficiently in his training to be recommended for his commission. His R.A.F. service record notes that "Since joining R.F.C. flown D.H.6 Curtiss J.N.4 A.W. R.E.8."9 The first two, the DH.6 and the Curtiss Jenny, were training planes. Assuming the "A.W." was the Armstrong Whitworth FK.8, it and the R.E.8 were both operational planes, both of them two-seaters used for reconnaissance and bombing.
General Pershing forwarded the recommendation for Moore's commission to Washington in a cable on March 9, 1918; the confirming cable is dated March 22, 1918.10 By this time Moore was stationed at No. 69 Training Squadron just south of Narborough in Norfolk. The next day, March 23, 1918, Moore was flying solo in an R.E.8 (B5130) when he tried to make a climbing turn at low altitude. The plane stalled and crashed, and he was seriously injured.11
I have found no details of his hospitalization or recovery, but his R.A.F. service record indicates that by August 1918 he was able to resume training, now on DH.9s, at No. 6 Training Depot Station at Boscombe Down near Salisbury. From there in mid-November 1918, shortly after the armistice, he was posted to No. 1 Fighting School at Ayr and Turnberry for a few days before being withdrawn from the R.A.F. and sent to the American Rest Camp at Knotty Ash near Liverpool.12
Moore travelled home on the S. S. Lapland with a group of officers that included his fellow second Oxford detachment member John Lavalle, who had also been injured while training.13 The Lapland sailed from Liverpool on November 22, 1918, and arrived at New York on December 4, 1918.
Moore returned to the University of Wisconsin and was able to graduate with the class of 1921.14 For a time he lived in Florida, working for Photostat Corporation—hence his being described as a "Southerner" when his engagement to Ada Virginia McWhinney was announced in 1928.15 He and his wife soon settled near Rochester, New York, where they remained until their deaths in the early 1980s.16
mrsmcq July 20, 2020
Notes