(Buffalo, New York, August 2, 1894 – New York City, November 7, 1949).1
Brown's father was an executive of the Central Electric Company in Chicago.2  After attending St. Mark's School in Massachusetts, Brown studied at Princeton, receiving his B.A. in 1917.3  While at Princeton, he was a student at the privately funded Princeton Aviation School prior to joining the Signal Corps.  He went on to attend ground school at Princeton's School of Military Aeronautics, from which he graduated August 25, 1917.4  Princeton had planes in which aviation students received some instruction.  Brown was thus probably one of those few among the second Oxford detachment who had had some flying experience prior to R.F.C. training.
Along with about half of the men in his ground school class, Brown chose or was chosen for flight training in Italy and sailed as one of the 150 men of the "Italian" or "second Oxford detachment" to England on the Carmania.5  They departed New York for Halifax on September 18, 1917, and departed Halifax as part of a convoy for the Atlantic crossing on September 21, 1917.  On arrival at Liverpool October 2, 1917, the men learned that a mix-up had occurred and that they were to remain in England rather than proceeding to Italy.
The cadets (as they were now called) attended ground school (again) at the Royal Flying Corps's No. 2 School of Military Aeronautics at Oxford.  As much of their class work repeated material already covered in the U.S., the men did not have to study hard, and they enjoyed exploring Oxford and its amenities and the surrounding countryside. The War Birds entry for October 3, 1917, mentions that Brown joined Marvin Kent Curtis (with whom Brown was rooming at Christ Church College6), Clarence Horne Fry, Laurence Kingsley Callahan, and John McGavock Grider on a bicycle ride to Blenheim. Another bicycle ride taken by Brown, Uel Thomas McCurry, and Hugh Douglas Stier to a village near Oxford is commemorated in a photo kept by Grider. And Grider, in his diary, recounts how "We have a back way of getting in at night over the wall in the garden behind the college. Brownie tried to climb over the wall in the wrong place and got stuck on top of the wall. [John Hurtman] Fulford and I were coming home by way of alley & tree we heard this plaintive voice 'Grider' we got him down with a ladder and tucked him over the wall."7
On November 3, 1917, Brown went with most of the detachment to machine gun school at Harrowby Camp, near Grantham in Lincolnshire.8   About two weeks later it was determined that fifty of the cadets could go to training squadrons, and on November 19, 1917, Brown and nine other cadets left for Thetford.9  The entry for November 17, 1917, in War Birds includes the remark:  "Cal, Curtis, Brown, Fry and I [Grider] are ordered to Thetford to learn to fly at last. This is the final bust-up of the Italian Detachment."  There were at least two training squadrons at Thetford, 12 and 25; Brown, again rooming with Curtis, was presumably assigned to 12 and began his training on Maurice Farman Shorthorns.10
In mid-December 1917 Brown was posted to No. 56 Training Squadron at London Colney, where he roomed with Parr Hooper; he makes several appearances in Hooper's letters and photos.11  The two of them spent New Year's eve together in London, and went out to dinner in London in early February with Harold Worth Vassar of the first Oxford detachment and Arthur Richmond Taber of the second.12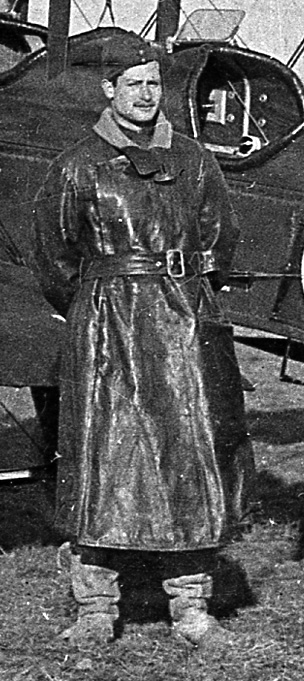 Hooper reports on January 27, 1918, that Brown has "just gone solo"; this was presumably in one of the Avros used for training at London Colney.12a  Brown was probably still stationed at London Colney in early March 1918 when he landed at Hounslow where George Augustus Vaughn was training, had motor trouble, and could not get back to his own aerodrome for some time due to bad weather.13
Brown was recommended for his commission as a first lieutenant in late March 1918; Pershing's cable forwarding the recommendation to Washington is dated March 29, 1918.  As with a number of commissions, Washington took its time responding.  Pershing sent a follow up on April 30, 1918: "Request action taken on paragraph 3 A my cablegram 811."  The telegram finally confirming Brown's and others' appointments is dated May 17, 1918.14
Around the time he received his commission, Brown was posted to Marske-by-the-Sea in North Yorkshire, where he again roomed with Curtis.15  There he trained on S.E.5s and practiced aerial combat. Curtis's first log book entry for June 11, 1918, reads:  "Fighting Brownie in an S.E.5. I sat in front seat [of Avro]."  They then apparently switched planes; the next entry indicates Curtis was flying S.E.5 [D]397 and was "fighting Capt. Fielding-Johnson and Brownie in an Avro."15a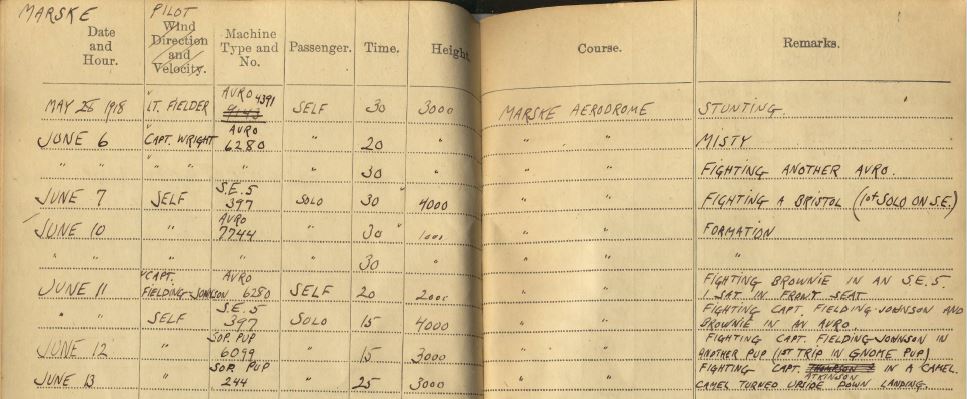 According to the biography published by Brown's prep school, Brown, after being commissioned, "trained further and awaited assignment from July 1 to Aug 7, . . ."16   A memo dated July 30, 1918, puts Brown at the Air Service Concentration Barracks, St. Maixent.16a   The school biography indicates he  "was then sent to A.S. Production Centre No. 2, Romorantin, France.  Served there as Ferry Pilot until Dec. 25.  Arrived in the U.S.A. Feb. 5, 1919. Discharged Feb. 8, 1919."16b   A personnel list for November 11, 1918, in an Air Service document lists "C. E. Brown" (along with T. W. Blackburn and many others) as a ferry pilot.17  James J. Sloan, Jr., in his Wings of Honor, lists a Charles E. Brown as assigned post-armistice to the U.S. 166th Bombardment Squadron, having been transferred there on December 13, 1918, from Clermont Ferrand.18
After the war Brown followed his father in the electrical supply business in Chicago, eventually becoming vice president of the Okonite Company, a supplier of electrical wire and cable.19
mrsmcq April 29, 2017; updated to include detail from B.E.2c photo August 1, 2019