(Xenia, Ohio, April 19, 1888 – Xenia, Ohio, June 1, 1966).1
Kelly's paternal grandfather, born and raised in Ireland, brought skills related to cloth manufacturing to the U.S. in 1859, initially settling in New Jersey, where Kelly's father was born, and then moving to Ohio, where he developed machinery for manufacturing hemp twine.2 Kelly's mother, Rachel Josephine Kelly, née Corry, came from a well-to-do farming family; her father had come to Xenia from Pennsylvania at a young age.3
Kelly initially enrolled in the College of Wooster in Ohio but transferred to Yale's Sheffield Scientific School, where he joined the Aero Club and sat on the club's governing board.4 The high spirits and high jinks that later figured in Elliott White Springs's accounts of Kelly were already in evidence at Yale: in 1910 Kelly was one of four Sheffield men suspended for "borrowing" a classmate's automobile.5 Evidently reinstated, Kelly graduated in 1911. In about 1914, suffering from tuberculosis, he spent some time in Arizona.6 By 1917 at the latest, when he registered for the draft, he was back in Ohio and employed at R. A. Kelly Co, the family cordage manufacturing firm.7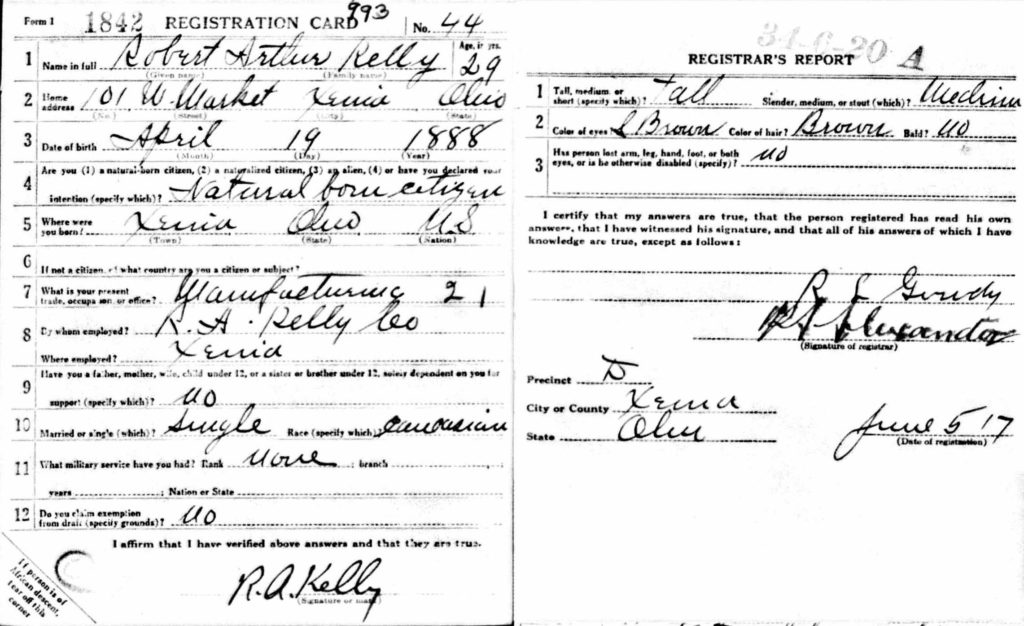 Kelly attended the School of Military Aeronautics at Ohio State University in the summer of 1917, apparently graduating the first week of August and then proceeding to a Signal Corps Aviation school nearby for primary flight instruction.8 At the beginning of September Kelly was sent to Mineola and assigned to a group of 150 men going to Italy for flight training. Members of the "Italian detachment" boarded the Carmania at New York on September 18, 1918, and set sail initially for Halifax. There they joined a convoy for the Atlantic crossing, which took just under two weeks. On board, Kelly found kindred spirits in Springs and Allen Tracy Bird, although the former, being in charge of the group, made an effort to keep the shenanigans under control: "We have an ex-cowboy with us named Bird, who has been having a terrible time behaving himself. Bob Kelly was a cowboy out in Arizona for a while when he was trying to shake off the con and every time they get together the storm clouds gather. They are good friends of Springs's and whenever they get started he joins them and tries to quiet things down."9
Arrived at Liverpool on October 2, 1917, the men were informed that they would not be going to sunny Italy as anticipated, but were put immediately on a train for Oxford where they would attend ground school, again. They had to leave most of their baggage in Liverpool, and "Springs left Kelly in charge of it and he picked Bird and [Earl] Adams and [Stanley Cooper] Kerk to stay with him to help. I'll bet they don't show up for a month."10  Not a month, but a week later, "Kelly and his squad arrived to-day with our baggage. They look like they had a good time. Bird was telling some story about their driving a coach until Kelly fell through the top of it."11 October 1917 entries in War Birds include a number of passages recounting drinking and partying centered on Bird and Kelly. " Kelly and Bird go out every night and take off their white hat bands [which marked them as cadets] and say that they are mechanics from this squadron outside of town. They throw a big party and then come in and wake Springs up to tell him about it because they say they don't want to do anything behind his back that they wouldn't tell him about to his face."12
At the beginning of November places became available for flight training at Stamford, and Springs had to choose twenty men out of the 150, all of whom were eager to get flying. Kelly was among those Springs selected, probably because he, like a number of the others, had had some flight training already. Even without Bird—who left with the rest of the detachment for machine gun school at Grantham on November 3, 1917—Kelly and Springs did their best to get into trouble, coming back from Abingdon very late their last night in Oxford and breaking the tree limb used for after-hours entrance into their college: "limb Kelly and all landed right on my belt buckle. Funny? We couldn't move for half an hour and then we had to build a sort of ladder out of the broken limb to get in."13
Once at Stamford, Kelly and Springs roomed together. Springs wrote home that "[w]e have very nice quarters here. Two of us are living over a little millinery shop on High Street. My roommate is a prince. Three years ago he went out to Arizona to die with consumption. He's now the healthiest specimen you ever saw. I call him Morituri."14 They partied together and, when weather permitted, trained on Curtiss JN-4s. There was presumably some initial dual instruction, but, assuming Kelly's experience resembled Springs, he put in many hours flying solo. He may, like Springs, have started flying DH.6s early in the new year.15  Springs's diary entry for January 5, 1918, indicates that Kelly, along with James Ernest Roth, was posted from Stamford to another training field, apparently, according to a passing reference in War Birds, Harling Road in Norfolk.16 Springs mentions planning to visit Kelly there in a letter dated January 20, 1918.17
I have found little further information on Kelly's training, beyond that his squadron assignments indicate he must have trained on S.E.5s, and that by early March 1918 he had advanced sufficiently to be recommended for a commission. Pershing's cable conveying the recommendation to the War Department is dated March 14, 1918; the confirming cable is dated March 26, 1918.18
In a letter probably from early June 1918, Springs remarks that "I had a letter from Kelly from England today and he hopes to be ready to come out in a week or so. The Major is going to try to get him here."19 Springs was evidently hoping that Billy Bishop, C.O. of No. 85 Squadron R.A.F., could pull strings to get Kelly assigned to 85, where Springs, John McGavock Grider, and Laurence Kingsley Callahan had been since early May. However, this was not to be. On June 16, 1918, Kelly was admitted to the Prince of Wales Hospital in London, apparently suffering from fever.20 By June 23, 1918, he was well enough to have dinner in London with Marvin Kent Curtis.21
In September Springs was once again (or still) trying to get Kelly into his squadron, which was now the U.S. 148th Aero: "Am trying to get Bob Kelly for the eighth [148th?]. He's still in hospital in London from his crash but ought to be out shortly."22 I have not been able to find a casualty card related to a crash involving Kelly.
Kelly's very sketchy R.A.F. service record suggests he continued to have health problems. A medical exam on October 29, 1918, reports that he was "Fit H[ome] S[ervice] with flying duties. Unfit G[eneral] S[ervice] 4 weeks."23

Nevertheless, on November 7, 1918, he was sent to France, to No. 2 A.S.D., i.e., the pilots pool south of Boulogne, where he remained for a little over the month, well beyond the armistice.24  Finally, on December 12, 1918, he went to No. 92 Squadron R.A.F., an S.E.5 squadron, but he was almost immediately transferred to the A.E.F.25  According to one source, he reported to the (American) 1st Air Depot at Colombey-les-Belles on December 16, 1918.25a     From there he was apparently assigned, like a number of other second Oxford detachment members, to the U.S. 25th Aero—the only U.S. squadron to be equipped with S.E.5s.26
On March 15, 1919, Kelly embarked on the S.S. Roma at Marseilles and sailed for home, arriving at Brooklyn on April 4, 1919.27 He returned to Xenia and was for a time associated with the family cordage business.28  Active as a reserve officer, he attained the rank of major.29 In the 1930s he was a founding partner of the Kelly-Creswell Company, which still manufactures pavement striping equipment.30 Spings's continued regard for Kelly is evident in Springs's dedication to him of a short story, "Long Distance," which is among the stories in the 1927 collection, Nocturne Militaire.
mrsmcq May 25, 2018; updated June 22, 2021, to include photo and to reflect casualty form information