(Pennsylvania or Massachusetts, September 8, 1892 – before 1963).1
Berry's father came as a child to the U.S. from England and worked initially as a foreman in a woolen mill and then as a government inspector in Philadelphia.2
Berry's R.A.F. service record indicates that he was a mechanical engineer, had been a student at Columbia from 1909 to 1913, and that, starting in 1913, he had been an actor employed by "Chas Dillinghame [sic]" in New York City; this was presumably the Broadway producer, Charles Bancroft Dillingham.3
On August 25, 1917, Berry graduated from ground school at Cornell.4  Along with three quarters of his Cornell classmates, Berry was selected for training in Italy and was thus among the 150 cadets of the "Italian" or "Second Oxford Detachment" who sailed to England on the Carmania.  They departed New York for Halifax on September 18, 1917, and departed Halifax as part of a convoy for the Atlantic crossing on September 21, 1917.  Berry's acting skills were apparently called on on at least one occasion.  On September 29, 1917, there was a benefit concert for the "Liverpool orphans home for the children of seamen," and Berry offered a recitation, while other second Oxford detachment members and violinist Albert Spalding, who was also on board, played or sang.5
The Carmania docked at Liverpool on October 2, 1917; there the detachment learned that they were not to go to Italy after all, but to train with the R.F.C. in England.  They attended ground school (again) at Oxford. On November 3, 1917, Berry went with most of the detachment to machine gun school at Harrowby Camp, near Grantham in Lincolnshire.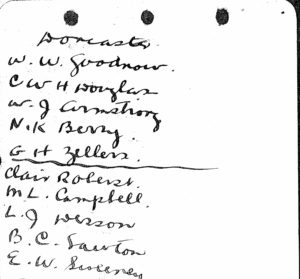 About two weeks later it was determined that fifty of the cadets could go to training squadrons, and on November 19, 1917, Berry (along with William Joseph Armstrong, Murton Llewellyn Campbell, Leonard Joseph Desson, Charles William Harold Douglass, Weston Whitney Goodnow, Bradley Cleaver Lawton, Clair Rutherford Oberst, Earl William Sweeney, and George Herbert Zellers) set off for Doncaster in south Yorkshire where Nos. 41 and 49 Reserve [Training] Squadrons were located. Berry, Armstrong, Douglass, Goodnow, and Zellers  went to No. 41.6
Berry's R.A.F. service record notes, without providing a date, that he was at the "4 Aux S of A G" (presumably No. 4 Auxiliary School of Aerial Gunnery at Marske7), and gives the following summary:
"Mechanical Engineer Since joining RFC, Flown MFs, DH6s, BEs, RE8 DH4 & 9 A W. Martinsydes, Special Fighting and Acrobatic Course Photographs to a considerable extent."  Berry apparently received his commission as a first lieutenant at the end of March 1918.8  After Marske, he went to the School of Aerial Fighting at Ayr where, on April 23, 1918, he, according to his R.A.F. service record, was involved in an "Aero accident. Seriously injured." Bogart Rogers, an American who had initially trained with the R.F.C. in Canada, was at Ayr and, without naming names, wrote an account of this accident:
Two fellows started up in a Bristol Fighter, one as pilot and the other in the observer's seat.  In taking off the pilot did a steep climbing turn down wind, which is generally a foolish thing to do.  The result was that the machine lost all flying speed, side slipped and crashed right in the middle of the aerodrome.  A good crash usually makes an awful noise and this was no exception.  The bus lay there for a second or so, and every one from the hangars rushed out toward it.  Then—poof—and the whole thing was in flames.  The observer had a broken arm and was sort of half hanging from his cockpit.  When the fire started he crawled out in a hurry his clothes burning nicely.  He rolled over on the ground, put the fire on his clothes out, and then went right back into the flames and dragged the pilot, who was unconscious, out and rolled him over.  It all happened so quickly that it's hard to explain, but the observer surely showed wonderful presence of mind and considerable amount of nerve.  Both of them were rather badly burned, but fortunate in getting out at all.  You've no idea . . . how quickly a machine will catch fire and how completely.  The gasoline does it.  All that remained after a few moments was a few blackened metal parts.9
Rogers's description of the aftermath is confirmed by a photo that second Oxford detachment member John Chadbourn Rorison took of the grim wreckage of the plane.10  An incident casualty card records that Berry was the pilot of Bristol Fighter C4689 and that Louis Ward Wheelock, of the first Oxford detachment, was the passenger.11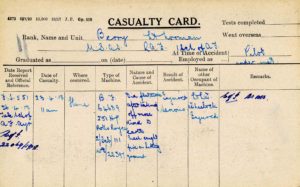 News of the incident circulated, and War Birds includes a second-hand account (both Elliott White Springs and John McGavock Grider were at Hounslow in April).12  Berry apparently remained in Europe until early November 1918, but I find no record of his activities.  He was honorably discharged November 26, 1918, at which point he was twenty percent disabled.13
He apparently continued his military career after the war.  A wedding announcement from March of 1919 indicates that he was stationed at Ellington Field in Texas.14  I have found no information about him from later years.  The "Roster from Clayton Knight," a listing of the cadets mentioned in War Birds dated February 22, 1963, indicates that Berry was by then dead, but provides no date or details.
mrsmcq April 21, 2017