(Bayonne, New Jersey, May 16, 1896 – near Gondrecourt, France, September 12, 1918).1
Cronin's grandparents were from Ireland and Germany. His father and uncle were connected to the brewing industry and were both active in Bayonne, New Jersey, civic life. His uncle, Matthew T. Cronin, was briefly mayor of that city.2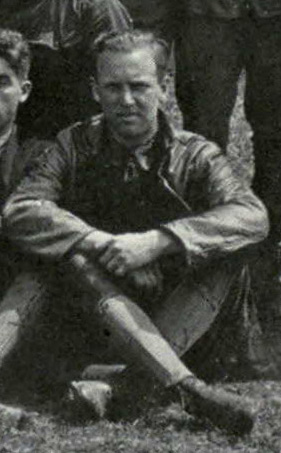 Cronin studied at Princeton and was a classmate (class of 1917) of Elliott White Springs.3  He was a student at the privately funded Princeton Aviation School, which had been established in the spring of 1917 to train Princeton students, and then at the government-run Princeton School of Military Aeronautics ("ground school") which superseded the Aviation School in June 1917.4  Like his friend Paul Vincent Carpenter, he does not appear on public ground school graduation rosters, but he apparently graduated September 1, 1917—the only person who graduated that date (the second Princeton ground school class graduated September 8, 1917).5  Nonetheless, Cronin appears in photos of the August 25, 1917, graduating class.
With the 150 men of the "Italian" or "Second Oxford Detachment" Cronin sailed to England on the Carmania, departing New York on September 18, 1917, and arriving (after a stopover at Halifax to join a convoy for the Atlantic crossing) at Liverpool on October 2, 1917. Once in England, the men learned that they would not go to Italy but would attend ground school (again) at the Royal Flying Corps's School of Military Aeronautics at Oxford University.
Cronin was among those selected by Springs on the basis of their having had flying experience to go on to Stamford in early November 1917 rather than to machine gun school at Grantham.6  He was at Stamford at least through early December and probably longer. On December 5, 1917, on one of their alternate free Wednesdays, he went with George Augustus Vaughn to London to see sights and take in a show; very early the next morning they were awakened by a German raid on London.7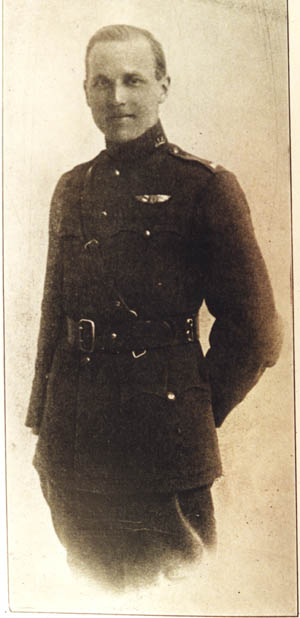 There is no R.A.F. service record for Cronin, and I have not found information on his training after Stamford. By mid-March he had completed enough flight training to be recommended for a commission, and Pershing forwarded the recommendation in a cable dated March 19, 1918; the confirming cablegram is dated April 2, 1918.8  A Princeton memorial biography records that after being commissioned, "he was engaged in instruction in various aviation centers in England," until July 1918.9  In early July he was ordered overseas and posted to the 3rd Aviation Instruction Center at Issoudun in the Loire region of central France.10
On September 5, 1918, Cronin joined the U.S. 96th Aero Squadron, which was stationed in Amanty and equipped with Bréguet 14B.2s, two-seater French-built planes; the "B.2" variant was fitted with bomb racks, turning a reconnaissance plane into a bomber.11  Cronin was the only member of the second Oxford detachment to be assigned to the 96th before the Armistice, although there were men from the detachment at the 11th and 20th Aero Squadrons, also stationed at Amanty.  These three squadrons (96, 11 and 20) became the 1st Day Bombardment Group, hastily formed on September 10, 1918, in preparation for the St. Mihiel Offensive.
From the day of Cronin's arrival on September 5 through September 11, 1918, no missions were flown. Weather conditions were bad and getting worse; only a few "test flights" were made.12  Whether Cronin had an opportunity to go up and familiarize himself with the area is unknown.
The history of the 96th Aero Squadron in Gorrell's History of the American Expeditionary Forces Air Service, 1917 – 1919 records the following:
September 12th, which opened the great St. Mihiel offensive, was on all counts the worst flying day in many months. A terrific southwest wind made formation flying extremely dangerous, and the low fast moving clouds made it impossible to see more than 2 or 3 kilometers. . . .The first mission undertaken was a solo raid . . . at 10:45 A.M. . . .  At 1:30 P.M. 9 planes . . . bombed the troop center at Buxerulles. . . .
One of the pilots of the 96th, Howard Grant Rath, later recalled that the squadron commander did not want to send planes out on a third mission that day, but that his protests were overruled by Chief of Air Service Billy Mitchell, who was at the field at the time.12a The squadron history continues:
The third mission of the day, a formation of 5 planes, led by Captain James A. Summersett, was to bomb the troops at Vigneulles [about thirty miles east of Amanty]. Owing to the lateness of the starting 6:35 P.M., the objective was not reached until after dark.  The bombs were released over the town, but observation of the hits was impossible. The formation returned to the airdrome in the darkness, the pilots guiding on the exhaust fires from the motor of the leading plane. Landing at the field was attempted with the aid of ground flares, but only one of 4 planes landed successfully. One plane crashed in the forest back of the hangars; the other 2 piled up on the field. The 5th plane [#16, serial number 4016] piloted by 1stLieut. Edward M. Cronin, crashed on a ploughed field near Gondrecourt [about five miles west of Amanty]. The pilot was killed. The observer 2nd Lieut. Lyman Cox Bleecker, was injured.13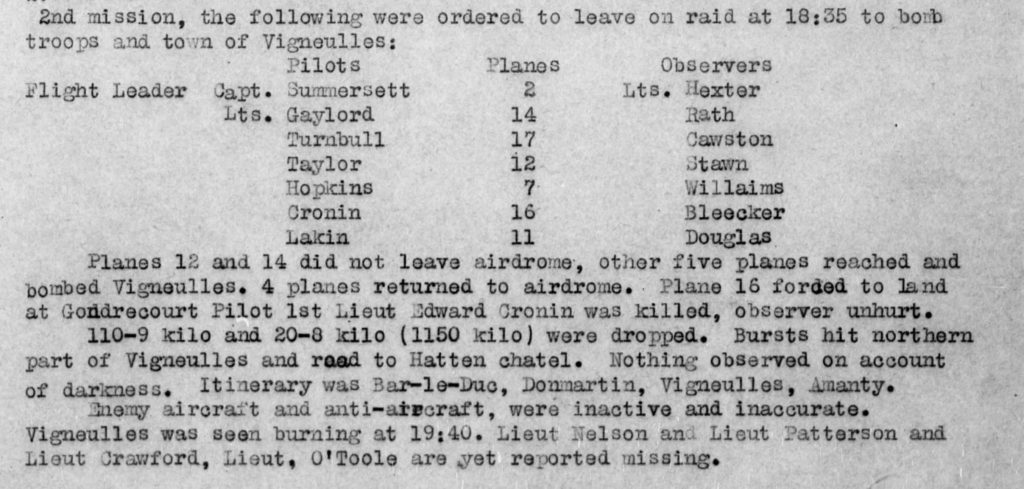 The last, undated entry in War Birds includes this account: "I heard that Ed Cronin was killed on D.H. 4's down South. He was sent out late in the afternoon and had to land in the dark when he came back and cracked up." Springs apparently assumed that the 96th, like the 11th and 20th Aero Squadrons, flew DH-4s. Cronin was the only member of the second Oxford detachment assigned to a Bréguet squadron before the end of the war.14
Cronin was apparently initially buried near the crash site, and then later reinterred in the Meuse-Argonne American Cemetery, Romagne-sous-Montfaucon, France.15
mrsmcq July 31, 2017