(Palermo, Italy, November 17, 1890 – Winter Park, Florida, July, 1980).1
Gaipa's family emigrated from Palermo around 1902; his father was a glove maker who settled in Jersey City.2  Gaipa attended Rutgers, graduating in 1914, and then went on to study law at Columbia and Fordham.3  According to the autobiographical letter he wrote in 1922 for the Rutgers Alumni Monthly, he went to London in July 1916, "in the employ of the London Southwestern Bank Ltd. Remained in London two months where from I was transferred to Paris, where I remained till American diplomatic relations were severed with Germany. Returned to New York and volunteered for the service."4
He attended ground school at Kelly Field at the University of Texas, graduating August 25, 1917.5  There were about thirty-six men in this ground school class; ten, including Gaipa, were selected for training in Italy, and these ten were among the 150 men of the "Italian" or "Second Oxford Detachment" who sailed to England on the Carmania.  They left New York for Halifax on September 18, 1917, and departed Halifax as part of a convoy on September 21, 1917.  According to the diary entry for September 24, 1917, in War Birds, Gaipa assisted Fiorello La Guardia in teaching the men Italian during the Atlantic crossing.  Once arrived at Liverpool (October 2, 1917), however, the men learned that their linguistic efforts had been wasted, for they were to remain in England and to repeat ground school at the Royal Flying Corps's School of Military Aeronautics at Oxford University.  A month later, on November 3, 1917, most of the detachment (minus twenty who were posted to Stamford) went to Harrowby Camp near Grantham in Lincolnshire to attend machine gun school, Gaipa among them.
While fifty of the men at Grantham were sent on to flying schools on November 19, 1917, the rest, including Gaipa, continued their course at Harrowby Camp through the end of November. On November 29, 1917, they celebrated Thanksgiving in great style, with many of the men who were already at flying schools coming in to join them. Festivities included a football game between the "Unfits" and the "Hardly Ables."6  Gaipa appears in at least one of the photos taken of the players that day. Robert Alexander Anderson recalled that they "celebrated well into that night and in high spirits ended up tossing a little fellow by the name of Gaipa—he was the smallest man in the Detachment—from one man to another."7  (Gaipa's passport gives his height as 5 foot 2 inches.8)
A few days later, on December 3, 1917, word was received that the remaining men were posted to squadrons for flight training. Gaipa was assigned to No. 31 Training Squadron at Wyton about fifteen miles northwest of Cambridge.9

According to his own laconic account of his military service, Gaipa was commissioned a first lieutenant in April, 1918.10  There is a cablegram to Pershing dated May 13, 1918, confirming the appointment, which had been recommended in a cablegram dated April 8, 1918.11  Gaipa's R.A.F. service record only provides information starting in August of 1918. On the 21st of that month he was transferred from 14 Training Depot Station (Lake Down, Wiltshire) to 48 Wing. He was then attached to the Aircraft Acceptance Park at Castle Bromwich.12  There is a record of his ferrying an F.E.2b (E7090) from Lympne to Orley two days after the armistice.13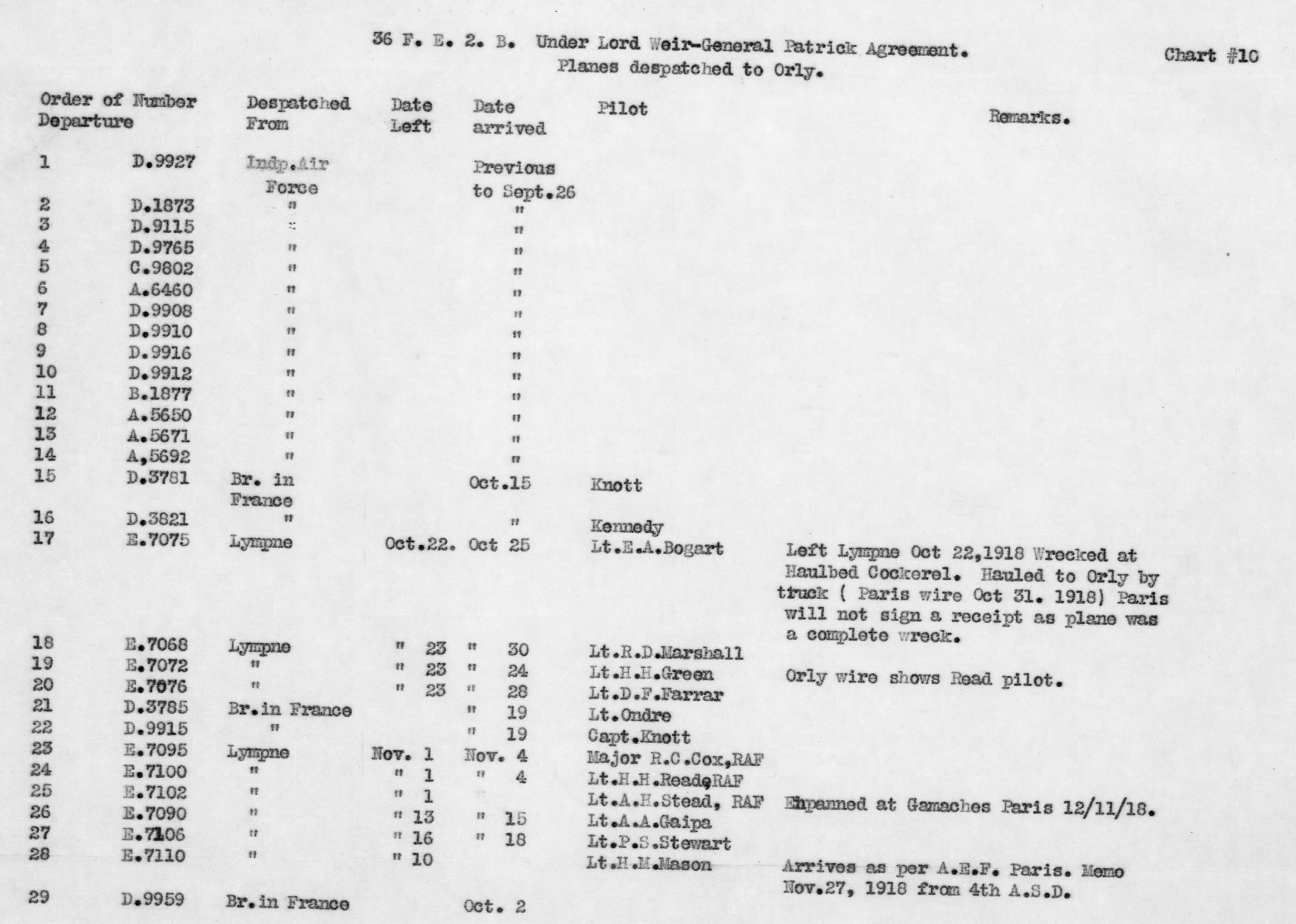 Gaipa returned to the U.S. on the Mauretania, departing Liverpool on November 25, 1918, and arriving at New York on December 2, 1918.14 Other "casual officers air service" on board included second Oxford detachment members Anderson, Bonham Hagood Bostick, Walter Chalaire, Raphael Sergius De Mitkiewicz, Bradley Cleaver Lawton, Joseph Kirkbride Milnor, Dudley Hersey Mudge, Francis Kinloch Read, Homer Ireland Smith, and Lynn Lemuel Stratton.
After the war Gaipa worked for the Gillette Safety Razor Company, travelling extensively and living in England, France, Brazil, and Italy, before settling in Florida.15
mrsmcq August 13, 2017